Search engine optimization remains the most important channel of growth for businesses with a digital presence.
TrueRanker is one of the most accurate tools today, providing a complete suite of features needed to boost website ranks in Google search results.
From a keyword rank tracker to an on-page SEO checker, TrueRanker has everything needed to improve rankings across Google and several other search engines.
The Need for a Feedback Management System
The team at TrueRanker values user feedback for guidance. However, due to a lack of a central feedback collection and management system, it was very difficult for them to stay organized and on top of issues.
That's when they opted for FeedBear.
FeedBear helps product builders stay engaged with their customers throughout the entire product development journey, making it an essential tool for any product manager looking to involve customers or users in the product-building process.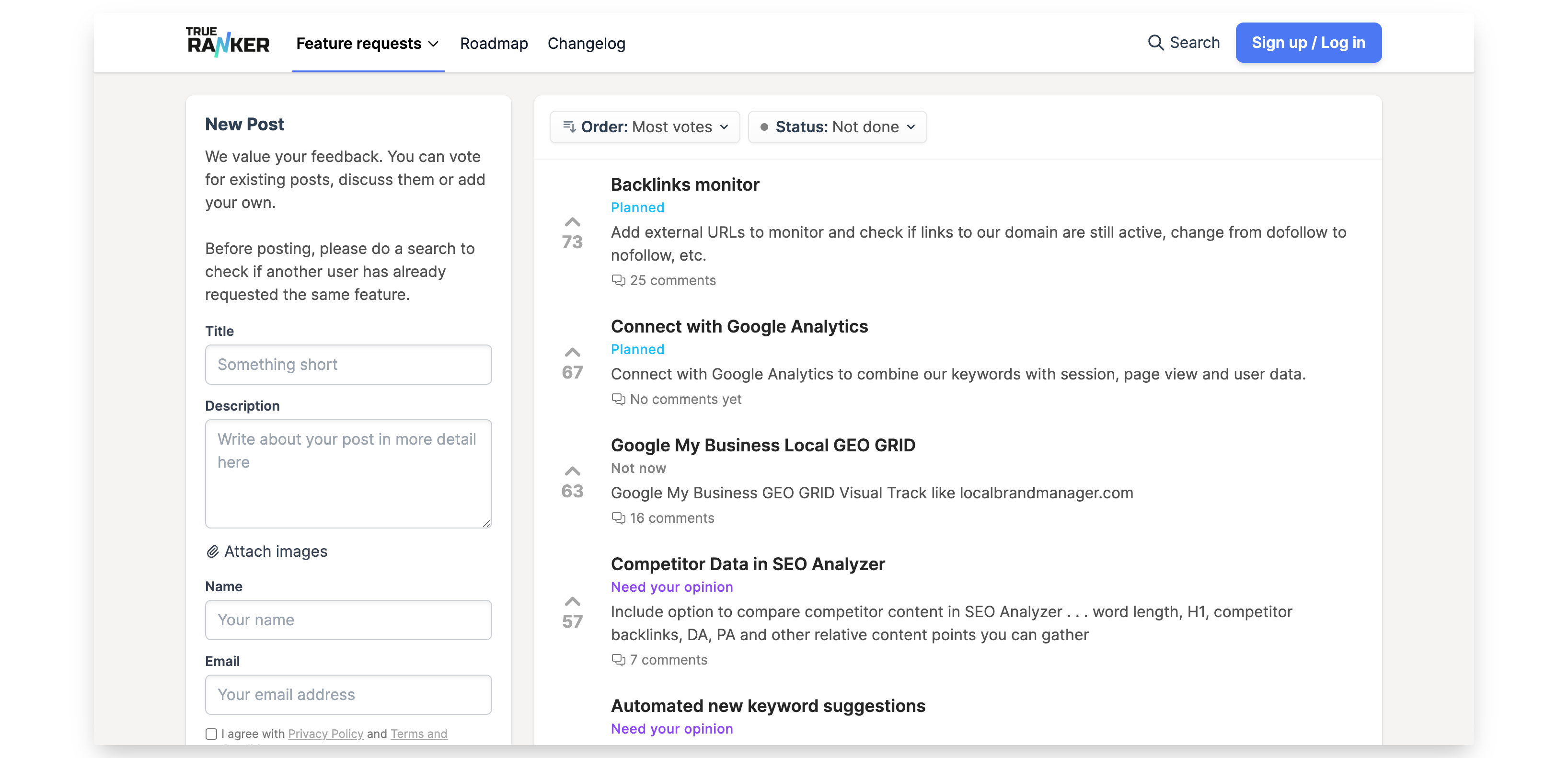 The Founders of TrueRanker
Sergio and Javier, the creators of TrueRanker, founded the company at the end of 2018.
Both developers had worked together for years as employees but decided to take a risk and become entrepreneurs.
They created TrueRanker as a tool to monitor the rank of keywords in Google search results in more than 50,000 locations, aiming to help businesses make better decisions in their SEO strategy.
The Birth of TrueRanker
As SEO consultants, Sergio and Javier realized that they needed a rank tracker and had the required technology and skills to create one themselves.
They took the plunge and developed TrueRanker, which has since become a trusted rank tracker for many users.
Implementing FeedBear for Better Feedback Management
The team at TrueRanker wanted to stay customer-centric, so they turned to FeedBear to help organize and prioritize user feedback.
Prior to using FeedBear, they received suggestions from various channels, leading to disorganization and difficulty in determining which features were most requested.
FeedBear offered an easy-to-use, user-friendly interface with a roadmap, changelog, and customizable branding, making it the perfect fit for TrueRanker.
Utilizing User Feedback for Continuous Improvement
Thanks to FeedBear, TrueRanker now knows exactly what features or enhancements users want in their product, helping the team prioritize development tasks.
For example, user feedback revealed that the font used in their tool was not suitable for displaying large amounts of data. The team subsequently changed the font to a more compact one, improving usability.
Encouraging User Engagement with FeedBear
To encourage users to provide feedback, TrueRanker directs them to FeedBear boards through the tool's navigation menu and support inquiries.
This streamlined approach has helped the team better understand their customers' needs and desires.
A Strong Recommendation for FeedBear
Sergio and Javier firmly believe that FeedBear is an excellent choice for any business looking to manage and organize user feedback.
With a 14-day free trial, FeedBear is a valuable tool for those seeking to enhance customer-centric development.