The best Canny alternative for startups
Canny is a great product, and it can do a lot. But it comes with features you don't need, an enterprise focus and expensive pricing.
Free 14 day trial · No credit card required · Cancel any time
Looking for a Canny.io alternative? FeedBear might be for you. 
The two platforms are similar. Both give you a feedback board, a roadmap, and a changelog - with plenty of useful features and integrations that help you build a complete feedback loop. 
But there are relevant differences. In this article we're going to explain them, and why FeedBear is a better choice if you value ease-of-use, simplicity, flexibility, and value for money. 
Let's start off with a brief look at what FeedBear and Canny are and who they are for. 
What is FeedBear, what is Canny?
FeedBear is a complete feedback platform comprising three main components. Let's take a look at them in turn.
1. Feedback board
The Feedback Board is the heart of the platform. It will be custom branded for you on your own domain, and users will be able to easily access it through a link or post directly to it through a site widget. Check out our own Feedback Board: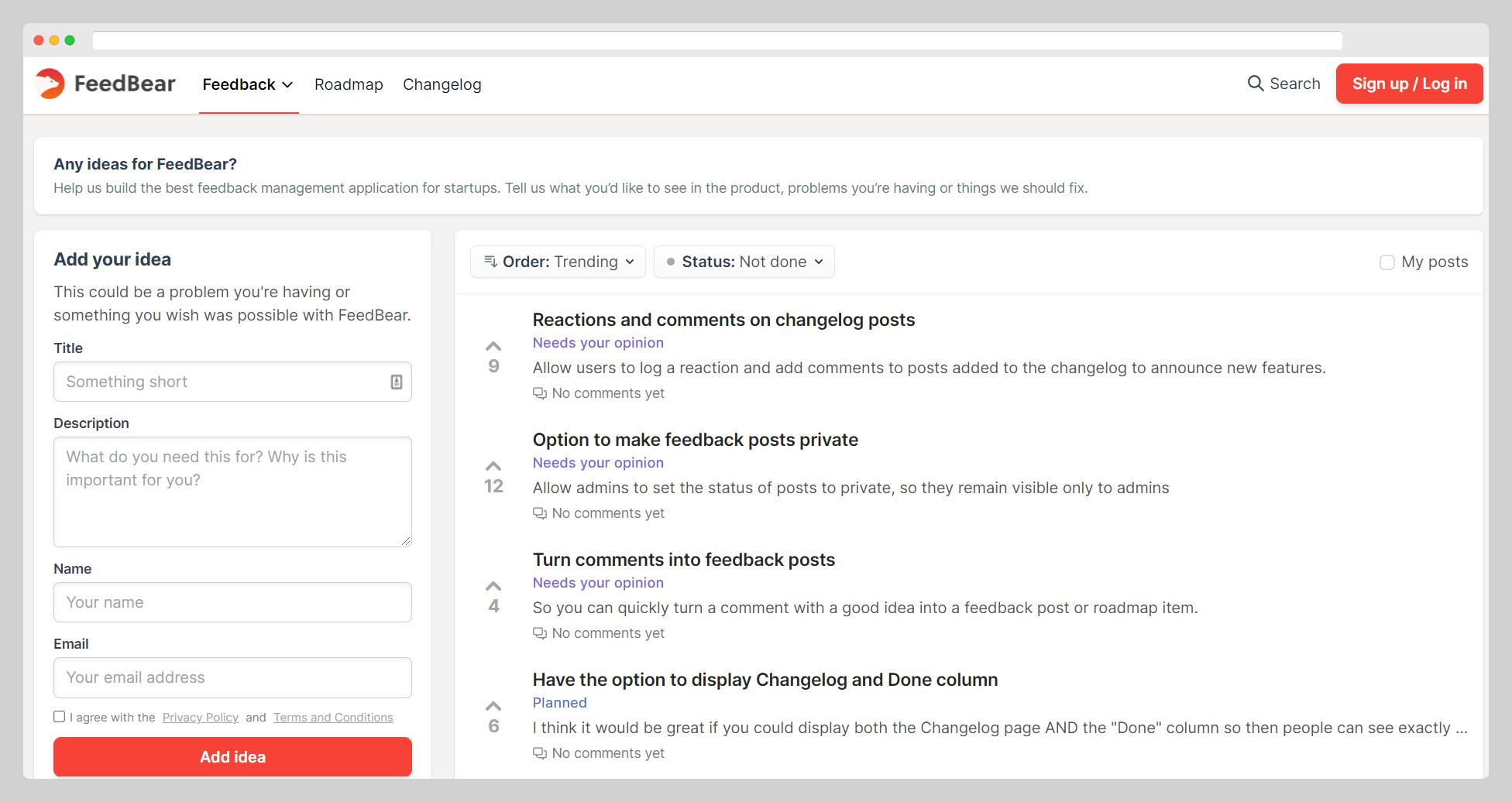 On the feedback board users will add their feature requests, bug reports, and ideas. You can split them by category, and use tags to keep everything organized. The Feedback Board can lead to lively discussions between users who will comment on each other's posts to help out or offer their thoughts. You and your team can also add your own ideas and solicit feedback so it's a rapid fire way to validate ideas too.  
2. Roadmap
The second piece is the roadmap. Just change the status of an idea on the Feedback Board and it will be added to the roadmap. With the Kanban board layout, projects and tasks can be categorized according to status - for example "needs your opinion", "planned" and "in progress".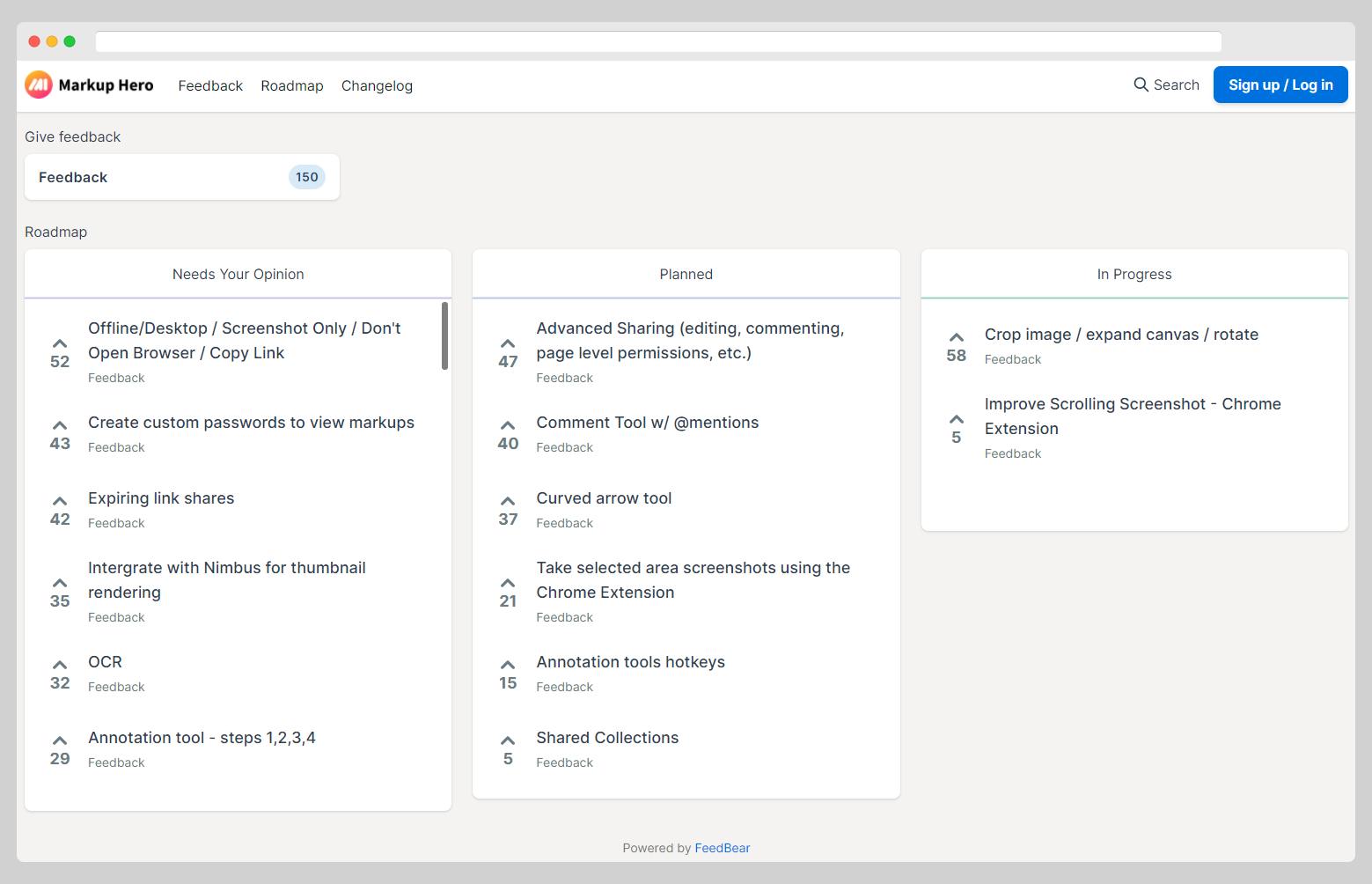 The Roadmap gives an easy overview of the work going on now and in the near future, and shows customers and stakeholders that you're listening to them and actively improving your product. 
Data and engagement can be mined here too. Users can vote on roadmap items, giving you a good idea of what their priorities are, and they can comment on them easily with one click. 
3. Changelog 
So what happens when an update gets rolled out, a new feature released, a bug squashed? You announce it through the Changelog!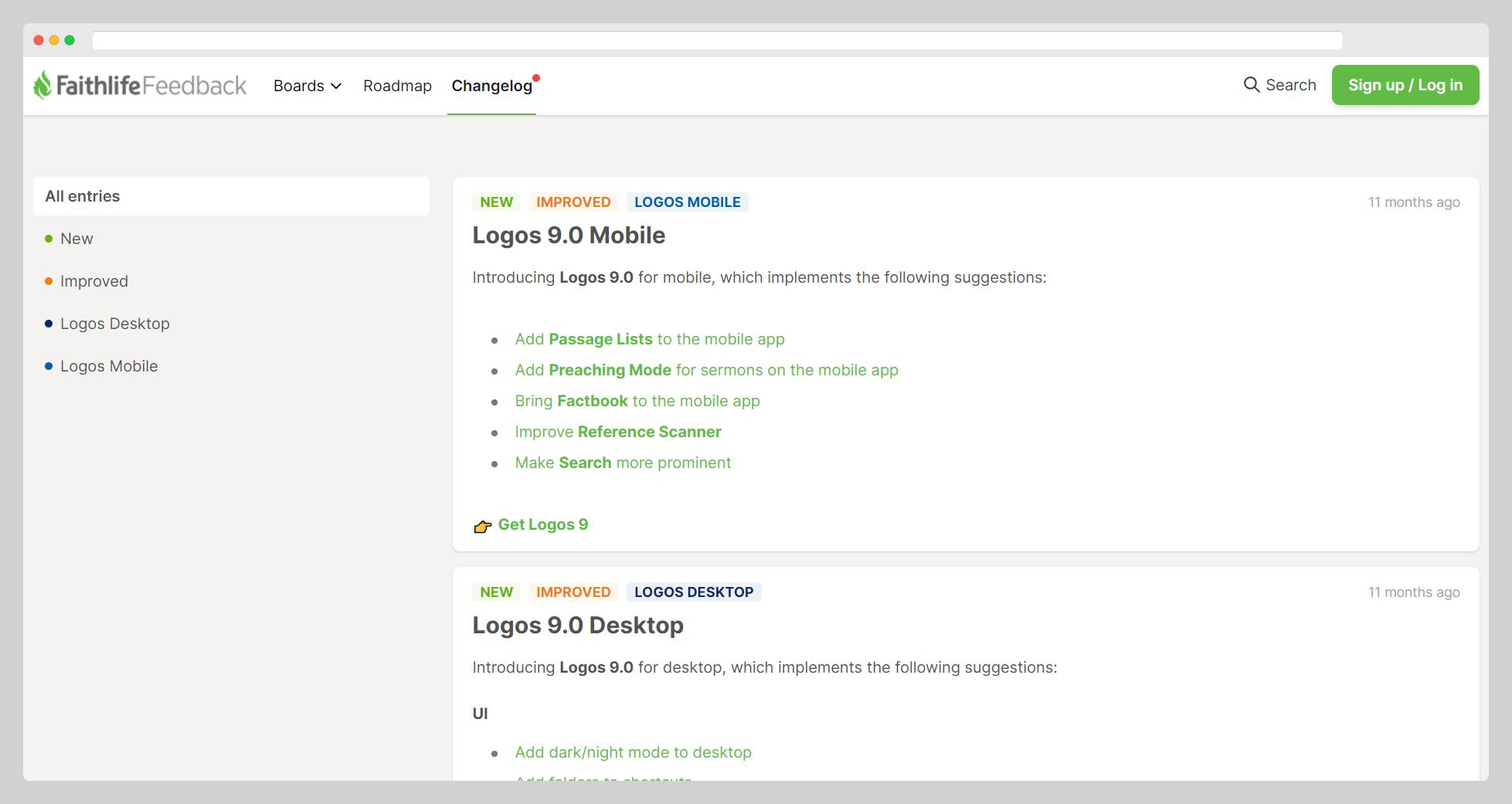 The Changelog lets you share progress and shipped product improvements with the world. You can go more into detail with longer form, blog post style announcements, and include rich media too!
The Changelog closes the feedback loop, and draws a line under milestones achieved. 
What is Canny? 
Canny is a similar platform. It also has a feedback board, roadmap, and changelog - that work in a similar manner. Canny has a wide range of integrations and is generally well reviewed and popular with users.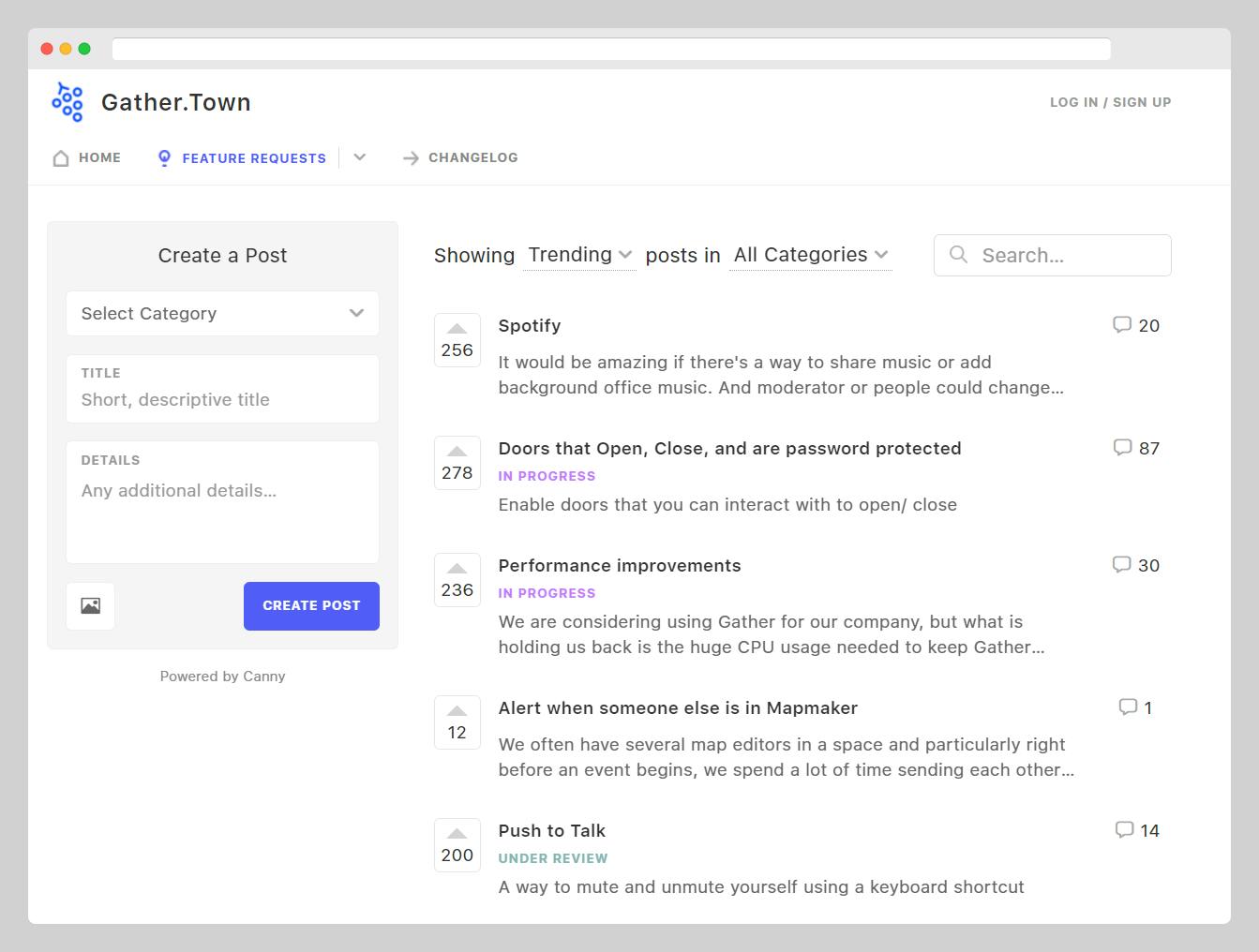 The key differences between FeedBear and Canny are in the details, which is what we are going to look at now.  
FeedBear vs Canny
At the highest level:
FeedBear is aimed at fast-moving startups, SaaS businesses and consumer web apps. The core focus is on simplicity, giving users the features they need without overcomplicating things. Pricing is flat, flexible, predictable - and will stay the same as you scale. 

Canny is more suitable as an enterprise tool or for larger businesses. There are more features that give flexibility to integrate with existing tools, but make it a little more complex. The tiered pricing could also get expensive fast if you want to use it at scale. 
So which is better for you? Here are a few of the reasons why we think FeedBear is the better option for growing startups and SaaS businesses. 
FeedBear is simpler and easier to use
Canny caters to large companies with big customer success teams with thousands of customers leaving feedback and has great tools to let you sort through the noise. That does come with a lot of extra complexity that you might not need.
More features mean a more complex product. There's no way around that.
FeedBear was designed to be as usable as possible so we kept the features and integrations to the essentials - aiming to give you exactly what you need without overcomplicating things. 
It doesn't require a remotely technical person to set up and you can get it up and running in literally 60 seconds after signing up. Try it for free!
Jeff Solomon, founder of Markup Hero put it this way:
"I was very pleased with the cleanliness of the FeedBear. It's something that can get bloated and overdone easily, but I'm very happy and it fits with exactly what I wanted. There was a core problem I was trying to solve and I really just wanted to solve that one thing - and this is the best solution"
Luke Wilson, Founder of WebBoss had this to say about FeedBear's UX:
"I had it all completely set up and ready in a few hours. It was done. I uploaded the logos, set up the branding and the boards - and away we went"
FeedBear is lower friction for users
The more users add their ideas, comment, and vote on the Feedback Board and Roadmap, the more valuable FeedBear is as a tool. We want you to get maximum value and user engagement, so we've focused on reducing the friction as much as possible for your own users. 
Canny has an SSO feature that enables users to post onto their board from their existing user accounts. 
This is good because users don't need to create a separate login for Canny. It reduces friction, but doesn't totally eliminate it. FeedBear goes a step further, eliminating friction almost entirely.
Your users don't have to sign in or register to anything on FeedBear. All they need to do is leave a name and email in the feedback form. Users can also vote anonymously on items in the Feedback Board and Roadmap without an account!
Wherever possible, FeedBear eliminates friction for your users to engage. This means more value for them and your business. 
FeedBear is better value for money
One of the key ways FeedBear shines against Canny is in pricing. 
Canny's lowest tier, Starter, comes in at $50 per month. That covers you for 100 tracked users, after which you'll pay an extra $20 for every additional 100 users. Starter is also limited to core features.
The next tier, Growth comes in at $200/m for up to 1000 tracked users, after which you'll pay an extra $100/m for each additional 1000 users. Growth also unlocks many of the more advanced features like private boards and user segmentation. It also opens up integrations with other tools like Jira, G Suite and Teams.
With Canny's full feature set available only in their Growth plan at $200 per month, it's certainly a quite expensive tool. Your price will also unpredictably increase as more people leave feedback or votes. No one likes that!
FeedBear instead is just $29 per month, with everything unlimited. That's right – fixed, predictable pricing that will never change and peace of mind! Unlimited boards to separate different kinds of feedback, unlimited contributors (customers), unlimited admin users, the full feature set.
$29/m for everything. Unlimited boards, unlimited users. 
You'll never pay more no matter how big you get or how many users you acquire. 
Start listening to your users, getting better ideas, and building a better product today
We've seen a few of the differences between Canny and FeedBear. Canny is a great tool, but FeedBear gives you the same benefits, arguably more, at a much lower cost. It's a dream to set up and use - and let's you level up your product management and user engagement almost instantly. 
If you're a software startup, there is no reasonable scenario in which FeedBear doesn't help you build a better product and grow faster. 
As Vedran Rasic, CEO of LeadDelta said:
"If you are a SaaS startup, especially in B2B and up to $1 million ARR - if you aren't using FeedBear, what are you doing? I am genuinely recommending a product that I love to you - get started with it!"
Getting started is simple. You don't need to take our word for it, you can try it out yourself for two weeks on a free trial. There's zero commitment, you don't even need to hand over any credit card details. 
Try FeedBear Today!
You shouldn't have to learn how to use yet another tool. FeedBear is quick to set up and incredibly easy to use with exactly the right amount of features.
If you're after something simple with all the must have features to collect customer feedback, manage it and prioritize it based on votes, publish a public roadmap and changelog, then we have the right tool for you!
Start listening to your customers
Understand what they really want. Build the right product.