FeedBear is a More Flexible & Powerful Feature Upvote Alternative
FeedBear is more efficient, gives you more options, and is far more affordable - let's look at how
Free 14 day trial · No credit card required · Cancel any time
Looking for a Feature Upvote alternative? FeedBear is for you. 
Feature Upvote is a good tool for gathering customer feedback.
But - FeedBear does everything that it does, and far more besides, for a lower price tag. 
If you're looking for one solution to completely own the feedback process, FeedBear stands head and shoulders about Feature Upvote. 
Read on and we're going to explain exactly how. 
Feature Upvote vs FeedBear - the similarities
Both FeedBear & Feature Upvote are modern tools with the goal of helping you to organize and process user feedback. 
Both allow you to: 
Create a feedback board on your own domain
Have users add their suggestions and comments
Have other users vote and comment on the suggestions
Organize suggestions with tagging 
Categorize suggestions by status
Both are designed to be easy to use, simple, and effective. With Feature Upvote, this simplicity is really taken to the extreme with a very stripped down interface and feature set. 
FeedBear is just as easy to use, but has a wider set of features. Let's take a look at the key differences. 
FeedBear gives you a feedback board and a roadmap
Feature Upvote is solely a tool for gathering feedback and displaying it on an interactive feedback board. In this respect it does a great job. 
FeedBear also gives you feedback boards, allowing users and team members to submit ideas, discuss them amongst each other, and vote on what they want the most. 
FeedBear boards are customizable, easy to organize with tagging, and completely interactive.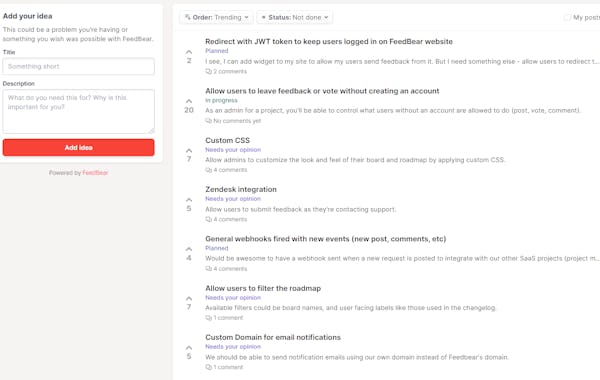 What happens after the feedback has been gathered, discussed, and voted on though? With Feature Upvote - pretty much nothing. 
You'll need other tools to continue to the next stage. You can categorize tasks as "in progress" or "done" on the feedback board itself, but not much else.
The whole point of gathering feedback in the first place is to get ideas from real users, to build a better product. That's it. 
Not all ideas will be useful or viable though. It's the feedback board's job to figure out which are. Once you've done that - you need somewhere as a home for the ideas that you're going to actually execute on. 
FeedBear gives you the same feedback gathering tools as Feature Upvote, but also has you covered for the next stage with a Roadmap. 
The roadmap is where viable ideas that you're going to actually build live. This is the second part of the FeedBear system.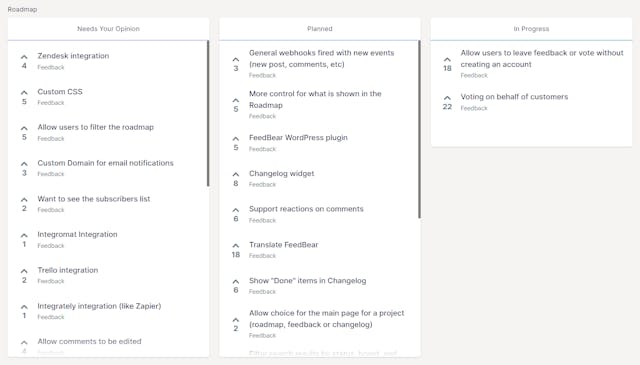 Without the roadmap, it would be hard to give users and team members a simple overview of what you're planning to build, and when new features and updates are rolling out. 
It's one place to plan and visualize your product strategy, and share your longer-term vision with users and stakeholders. 
With tasks categorized as planned, or in progress - the team and your users are aligned and expectations calibrated. 
You can also have users vote on the roadmap itself, giving you even more data to make prioritization decisions on. Roadmaps can be public, or private - depending on which suits you best.
Take a look at our own Roadmap to see how it looks in practice. 
With Feature Upvote, there is no equivalent. They are purely a feedback gathering tool, not remotely helpful if you want to build a product roadmap. 
FeedBear gives you a Changelog
As well as a roadmap, FeedBear gives you a changelog too. 
The changelog is the final destination for the best ideas and feedback submitted by your users. Once you've built that feature, squashed that bug, or rolled out that update - the changelog lets you announce it to everyone.
It's a single destination to get a fast overview of everything new you've built and released.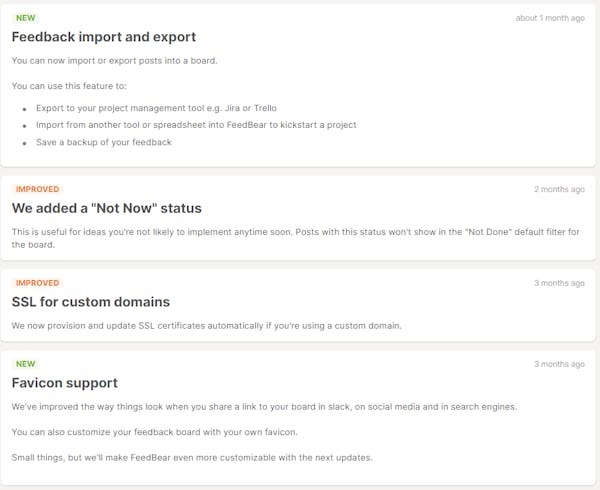 You can categorize updates into - New, Improved, and Beta. 
And close the feedback loop for all involved, providing closure for your team and users and demonstrating to the world that your product is actively maintained and improved. This is great for your brand and your users. 
FeedBear gives you a site widget 
As Feature upvote say themselves:
"Instead of collecting feedback using a portal, widget and sidebar, Feature Upvote just points everyone – you, your sales team, your customers – to the one feedback board"
This is fine, but could be a bit limiting. The user has to leave whatever they are currently doing and load up the board separately. It adds friction. 
With FeedBear we give you a site widget to make it easy for users to leave feedback without any hassle.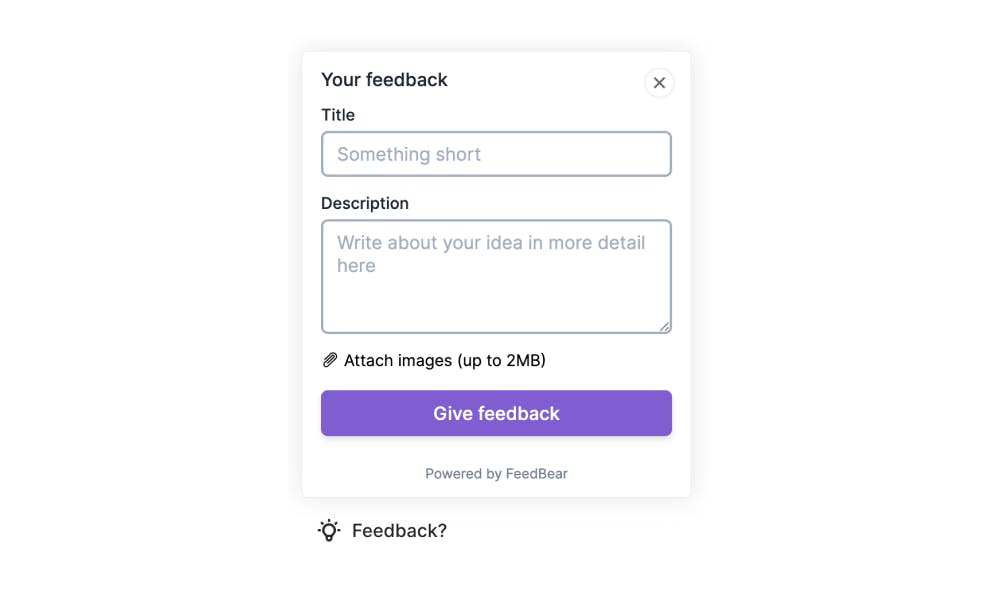 The widget has user identification, prevents duplicates by suggesting previous posts, is customizable - and you can hook the popup to any element you like!
Of course, users can also visit the board and submit their ideas too. 
FeedBear is far more Affordable
Let's talk about cost. FeedBear is more affordable than Feature Upvote, even though we give you far more. 
Feature Upvote costs $99/m per board. 
That's 99 dollars per month for each feedback board, with unlimited contributors and team members, and a custom domain. 
FeedBear is $29/m for unlimited boards 
That also includes unlimited contributors, team members and features. 
So FeedBear gives you unlimited feedback boards, a roadmap tool, a changelog, a site widget, and much more - for 40% less than Feature Upvote charges you for one feedback board. 
You get so much more for your investment, especially if you want to run multiple boards.
But FeedBear can be even cheaper. If you are an early stage startup that meets certain conditions, you can get FeedBear for just $29/m. 
Overall, the price difference is huge. FeedBear gives you far more, for far less.  
Why FeedBear is a better Feature Upvote Alternative
Overall, it's clear that FeedBear is a better Feature Upvote alternative. 
We give you everything that Feature Upvote does, and much more, for a far lower price. 
If you're looking for a complete feedback tool, that lets you own the process all the way from collecting the best ideas to planning and announcing new features - then FeedBear is for you. 
You can also try it out completely risk-free with our 14-day free trial. You'll be able to set up and start testing the tool in just minutes, and you don't need to give any credit card details either.
Ready to start really listening to your users? Let's get started! 
Build a better product
Start listening to your customers in 60 seconds