For today's case study, we sat down and talked with Phil Gons from Faithlife.
The company has been around since 1992 and has two main business units - one is responsible for their bible software and bible study products and a newer business unit is focused on church products.
Phil has been with FaithLife for 14 years and before he started working for them, he was an avid user of the product.
As the company grew, so did their need for a feedback management tool and this is where FeedBear came into play.
Discovering FeedBear
Going back a few years, Faithlife was an UserVoice customer. They used the tool and it did its job but the team knew they needed something better.
They weren't ready to invest a lot of money in a feedback tool, but they knew that they wanted something more modern.
He first found FeedBear through Quora and he was one over by the UI, price, value, and features.
FeedBear quickly came up as the best tool for the job.
What won them over was the fresh design and the fact that it met all the needs they had for Faithlife. It had a solid core feature set that they could use long-term. Sticking to UserVoice would have meant paying a lot more for the features they needed.
Since Faithlife is an established company with multiple products, they need an integrated system that puts all the feedback for all their products in one place.
FeedBear allows them to do just that.
Why FaithLife choose FeedBear
Primarily, Phil was convinced by the clean user interface and UI, compared to the clunky feel of other feedback tools on the market.
It was the right solution for what they needed and, critically, it provided:
Quantitative feedback to help them make product decisions
The ability to collaborate with their team and work across functions
A modern user interface and user experience
He really appreciates that FeedBear is run by a small team.
This means that every piece of feedback he has on the tool gets an immediate response.
If they worked with a larger company, they wouldn't listen as much as FeedBear did.
Quantitative feedback to validate product decisions
Before FeedBear came into play, Faithlife had a general problem of getting quantitative feedback from their users. They wanted to find out what problems they didn't solve and what they could improve on.
They had forums in place, where they collected a lot of qualitative feedback. The problem was, forums are a rather old platform and the search function isn't all that great. Most importantly, a forum can't generate a report with the most important problems you need to solve in your product.
They love FeedBear because it gives them quantitative, measurable feedback. 
This helps them validate ideas and makes an impact on where they prioritize time and resources for future development.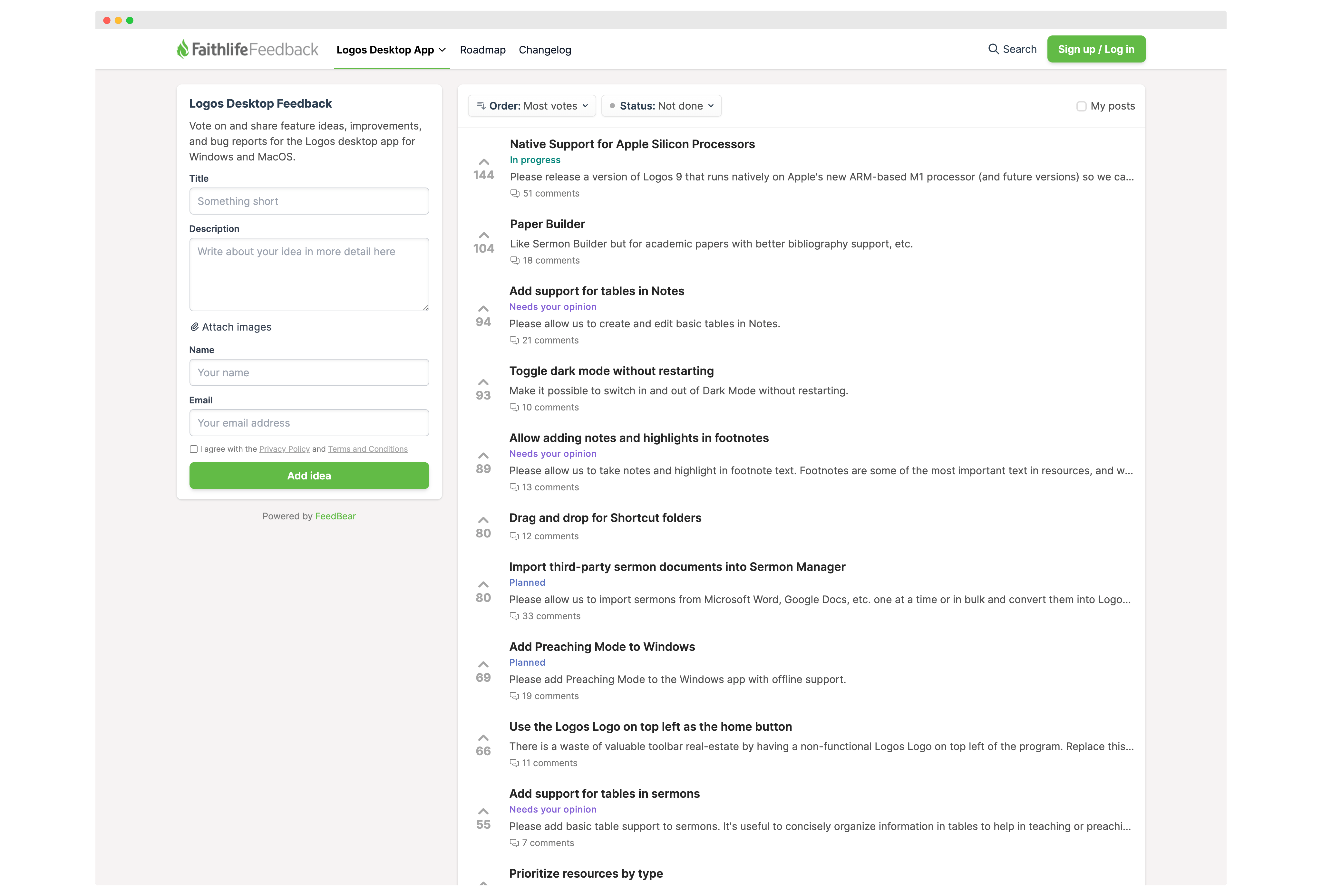 Phil goes and checks the feedback board several times a week to see what's trending and sets priorities for what the team needs to solve.
FeedBear is not their only source of feedback. They still look at their forums - qualitative feedback still plays an important role in their decisions.
They try and send people from their forums to FeedBear to turn qualitative into quantitative feedback for an easier decision-making process.