Your customers are often the best source of product ideas for your business. Who better to tell you the direction your product should be heading towards than the people who use it?
The problem is, keeping track of your customers' feature requests is easier said than done. Creating a two-way system where you collaborate and communicate with your customers about their requests is even harder.
Most businesses claim they care about feature requests - and they mean it - but don't have an efficient system in place to manage them. That leads to feature requests not being taken on board, prioritizing the wrong requests, and a host of other issues.
A feature request management software can solve a lot of these problems, and help your product remain laser-focused on the wants and needs of real users. Read on and we'll share the best feature request tools on the market today.
What You Need in a Feature Request Management Tool
First, what makes a feature request management tool great, or not so great?
There are certain criteria and features you should look at when deciding which tool to use. These are some of the things we looked for when ranking the feature request tools in this post and will help you make your feedback management process as effective as can be.
A central place to receive and manage requests
Most companies do care about product feedback and feature requests. But the problem is that it's spread across a hundred different places. Some in support tickets, emails to the founder, emails to one salesperson, a spreadsheet of feature requests that only one person keeps updated... you get the idea.
Your feature request tracker should gather everything in one place, where you can easily see which features all your customers are clamoring for.
Acknowledging customers' requests
You need to make your users feel heard when they submit feedback or a feature request. They're doing you a favor, telling you that they want to keep using your software and keep paying you. So let them know that their feedback is valued and acted upon. This also allows your customers to get connected and feel ownership of your product. In technical terms, you're not only getting the right direction but also you are increasing the lifetime value of a customer.
An open and transparent system for feature request management lets your customers know that their feedback is being used constructively, and encourages users to come forward with more feedback in the future.
Enabling comments
Actionable insight usually comes from more than just a one-sentence feature request. It comes from deeper discussion. Comments enable this discussion, opening a discourse between users and your team that lets you get to the bottom of what your product vision really should look like.
This deeper level of understanding will help you ship features that truly provide the most value to your users.
Different ways to organize requests
The more extensive your product and its features, the more you need the ability to sort and organize feature requests or product feedback.
You may want to have separate boards for feedback related to specific features or elements of your product, or a way to differentiate between feature requests and bug reports.
Upvotes to prioritize popular requests
Every single user's feedback is valuable. But too often we end up listening to the loudest or most outspoken users, instead of getting insights into what the majority of customers want.
A feature request tool with upvoting makes it easy to identify the most popular feature requests and make these features a priority. This will result in new releases that resonate with your user base and quicker adaptions instead of dedicating a development cycle towards something that only gets used by one or two people.
A way to keep in touch with customers
Your feature request app should be a two-way street, not just allowing customers to speak to you, but letting you proactively reach out to your user base.
If you want feedback on a new idea that's been discussed internally, or you have two potential features vying for the next release, you can ask users what they want to see via your feedback board. You can also provide updates on previous feature requests, feedback, or bug reports, to let customers know you haven't forgotten about them.
Communicating your direction via a public roadmap
Assuming you're on the same wavelength as your customers, you'll probably have requests for features that are already planned or in development. A public roadmap gives your users a view into the future direction of your product and will let a lot of people know that their "must-have" feature is going to be coming soon.
It also gives full transparency to your product development process, allowing you to set expectations with your users and show them that you're committed to building an awesome, feature-rich product.
Informing customers about new features
When you finally ship that new feature or fix that annoying bug, you need to "close the loop" and let your customers know their request has been filled.
Ideally, your feature request tool will include an easy way to communicate your new releases, such as a public changelog, as well as a system to notify people when their feature request has been shipped.
Best Feature Request Tools for 2022: 9 Tools to Improve Your Feature Request Management
Here are some of the best feature request tools for you to use to start involving your customers more in your product development workflow.
FeedBear's functionality and price point make it hard to argue against it. It is one of the top preferred tools for tracking customer feedback and managing the entire feature request and customer feedback process.
With FeedBear you get feature request/idea boards, a public roadmap, and a changelog feed, all in one place. Users can upvote and comment on ideas, which are presented in a simple and intuitive feed.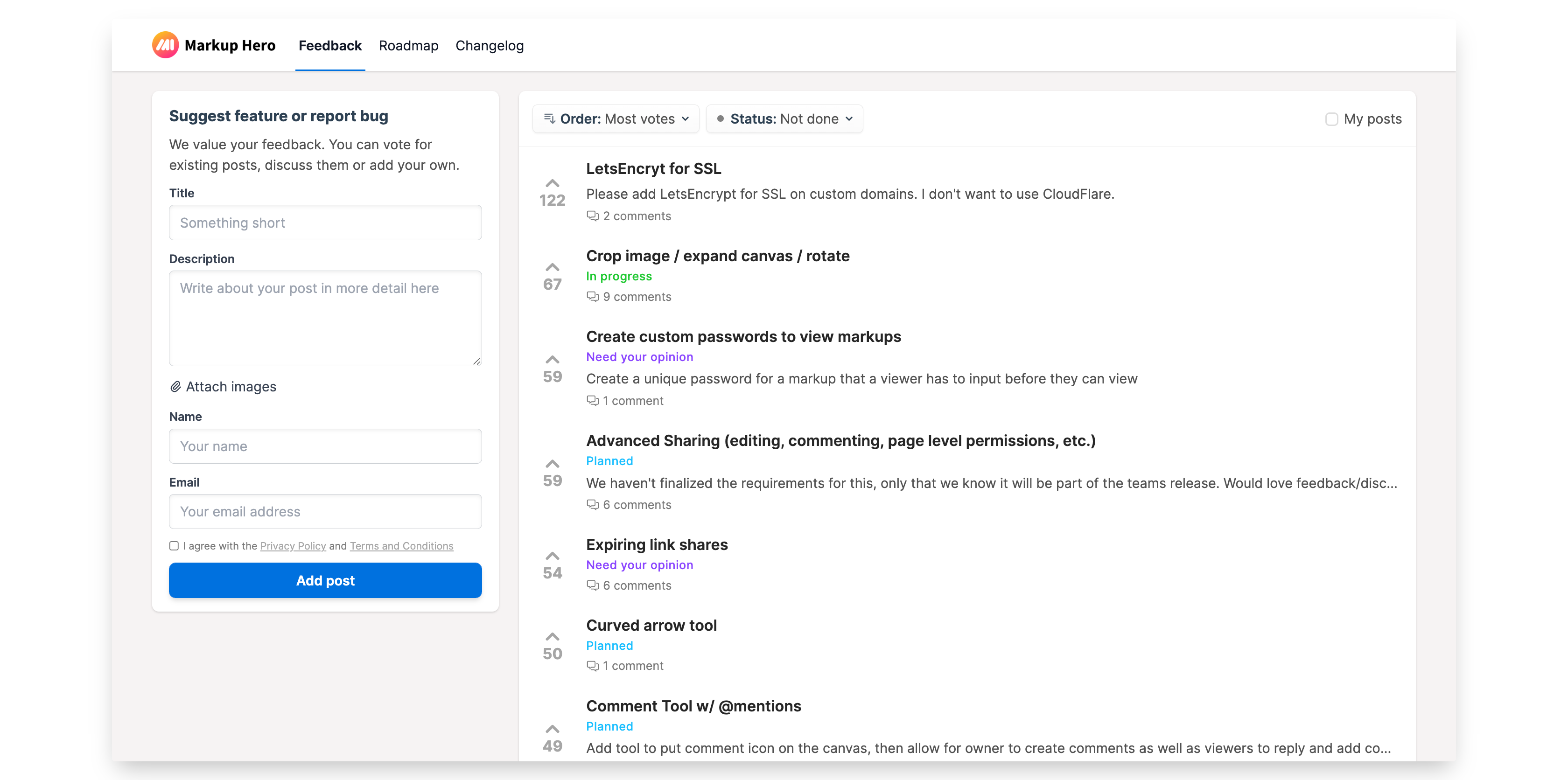 It also allows you to send automatic email updates to users who posted or commented on an idea when that idea goes live.
With unlimited boards, customizable with your branding and domain, and embeddable inside your app or web UI, the price point of $29 per month is a steal. It's quick and easy to set up and comes with little to no learning curve for your product team.
Key points
Extremely affordable at $29/mo
Modern, customizable design
Quick setup, no learning curve
Publish from your own domain, on your website, or inside your application
Allows upvoting and comments on ideas
Learn more about FeedBear's feature request management platform.
Trello
Trello, the hugely popular kanban board project management tool, can be used to track and display progress on feature requests, albeit with some limitations.
It's best suited for internal use, where your product team can organize and track the progress of feature requests and user feedback. And by making your board viewable to the public, you can give your users a look into the state of each feature request, and your future product plans.
The issue it has is that you need to manually transfer customer feedback from communication channels, such as customer support, email, or live chat, and add it as a card in Trello. Customers can't add their own feedback or feature requests to the board unless you actually add them as board members, which would allow them to edit and rearrange all the board's cards.
The price point (the free plan is more than enough for most small businesses) and usability of Trello definitely makes it an attractive option to start with, though for more functionality you'll need to look elsewhere.
Key points
Clean and intuitive UI

Free plan which offers all the core functionality you need
Customizable permissions let you show a view-only board to the public while editing internally
Can't really collect ideas externally
No upvoting
Doesn't come with a way to close the loop
UserVoice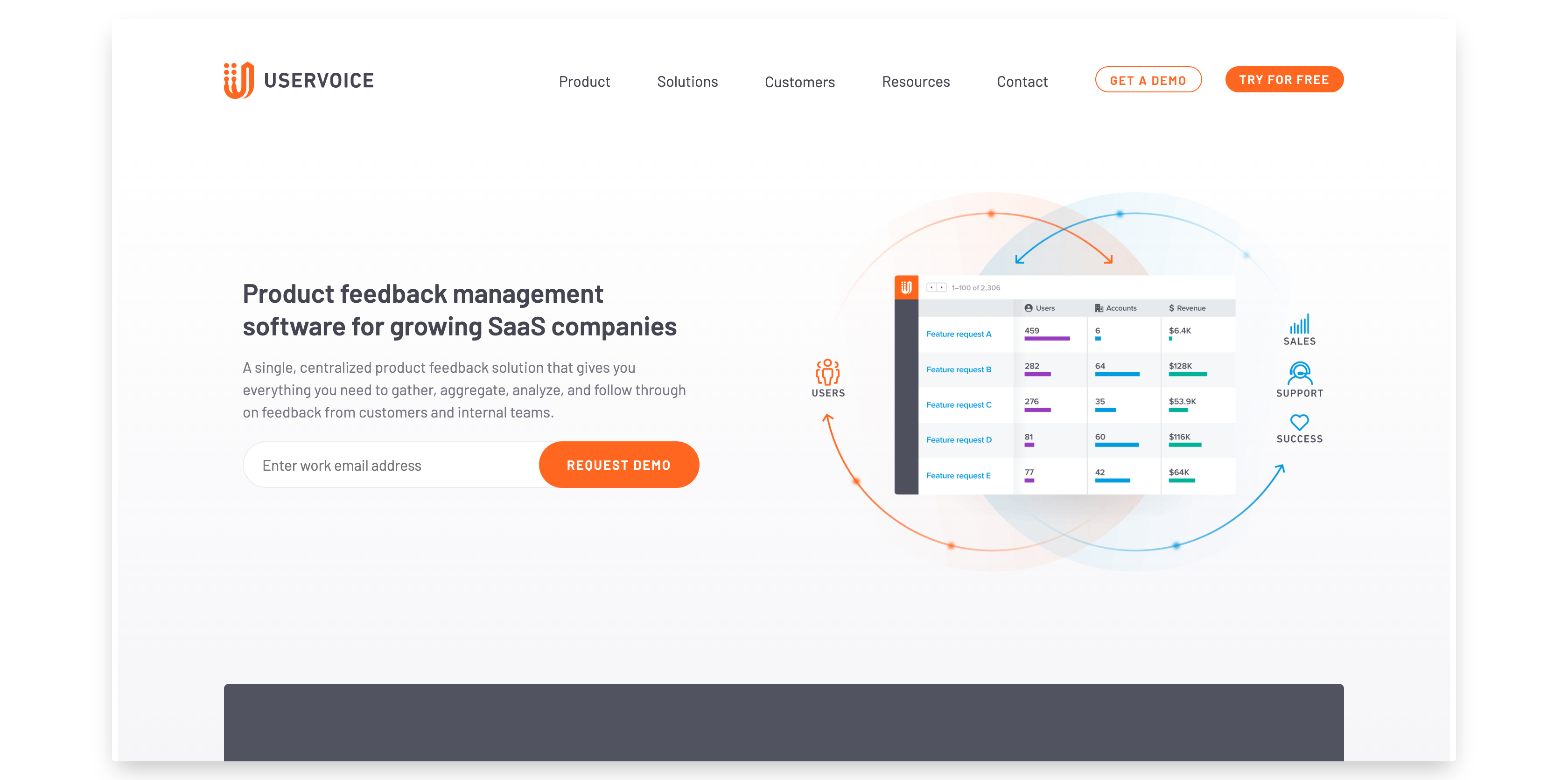 UserVoice is a feedback collection tool catered toward corporate customers. It comes with powerful analytics and segmentation features, product roadmaps, and integrations with tools like Slack, Salesforce, Jira, Zendesk, and more.
The feedback portal includes upvoting, and you can embed the portal within your mobile or web app UI.
The only downside is the price; it's expensive. Really expensive. UserVoice doesn't publicly share its pricing, but it's believed to start from $500 per month. There's no way to try it for free either. This really hammers home that it's centered around high-end companies with large budgets, and not small businesses or growing startups.
Key points
Established, providing solutions for feedback collection and product management for over 10 years

Provides a feedback portal with upvoting and status filters
In-depth analytics, easy to segment by customer data and other attributes
Designed for high-end, enterprise-level companies
Extremely expensive. Pricing is believed to be more than $500/mo
Design is somewhat dated, and not suited for modern startups
Feature Upvote
Feature Upvote is a simple idea voting tool, well suited for growing startups and SaaS companies to use for collecting and prioritizing customer feedback.
You can set up boards to allow suggestions from the public, voting only, or keep it entirely private for internal use.
Feature Upvote integrates with a few big names, including Slack, Microsoft Teams, Trello, and Jira. It also supports over 15 languages, making it a nice option for tools with a global user base.
However, this is a catch. You can't do a lot with Feature Upvote as your feedback collection tool. Its pricing is a little high, especially considering the feature set is intentionally limited (there's no roadmap or changelog feature - it's only for feature requests and idea upvoting).
Key points
Simple, easy to use

Allows custom domains
Supports multiple languages
No roadmap or changelog features
Pricing of $99/mo ($79 with an annual subscription) is quite a bit more than other options, such as FeedBear (which offers more features)
Canny
Canny offers pretty much everything you want from a feedback collection and idea upvoting tool. It's well-designed, easy to use, and, just as importantly, easy for your users to figure out. However, it feels like edging towards a project management tool making UI a little complicated.
Feedback can be segmented by user groups (e.g. see only feedback from your power users), and you can provide updates, display updates as a public roadmap, and close the loop by announcing when features or fixes ship.
There's also the added bonus of a quite extensive list of integrations supported, to help you automate feedback collection from your other communication channels, or link up with other project management tools.
Canny even offers a free plan - which is great but comes with a caveat. There's a significant jump in price to the next tier, at $400 per month. So it's great as long as you only need the free features, but as soon as you scale and need more features (such as private boards, user segmentation, custom statuses, or more integrations), you'll be faced with a massive cost or have to switch to another tool.
Key points
Sleek design, easy to use

An extensive set of integrations to choose from, including Slack, Intercom, Salesforce, Zendesk, and Jira
Offers a free plan
A free plan is somewhat limited, and the next level above is extremely expensive at $400/mo
Will find yourself needing to pay a lot more, or migrate to a different tool when you start to need more features
Productboard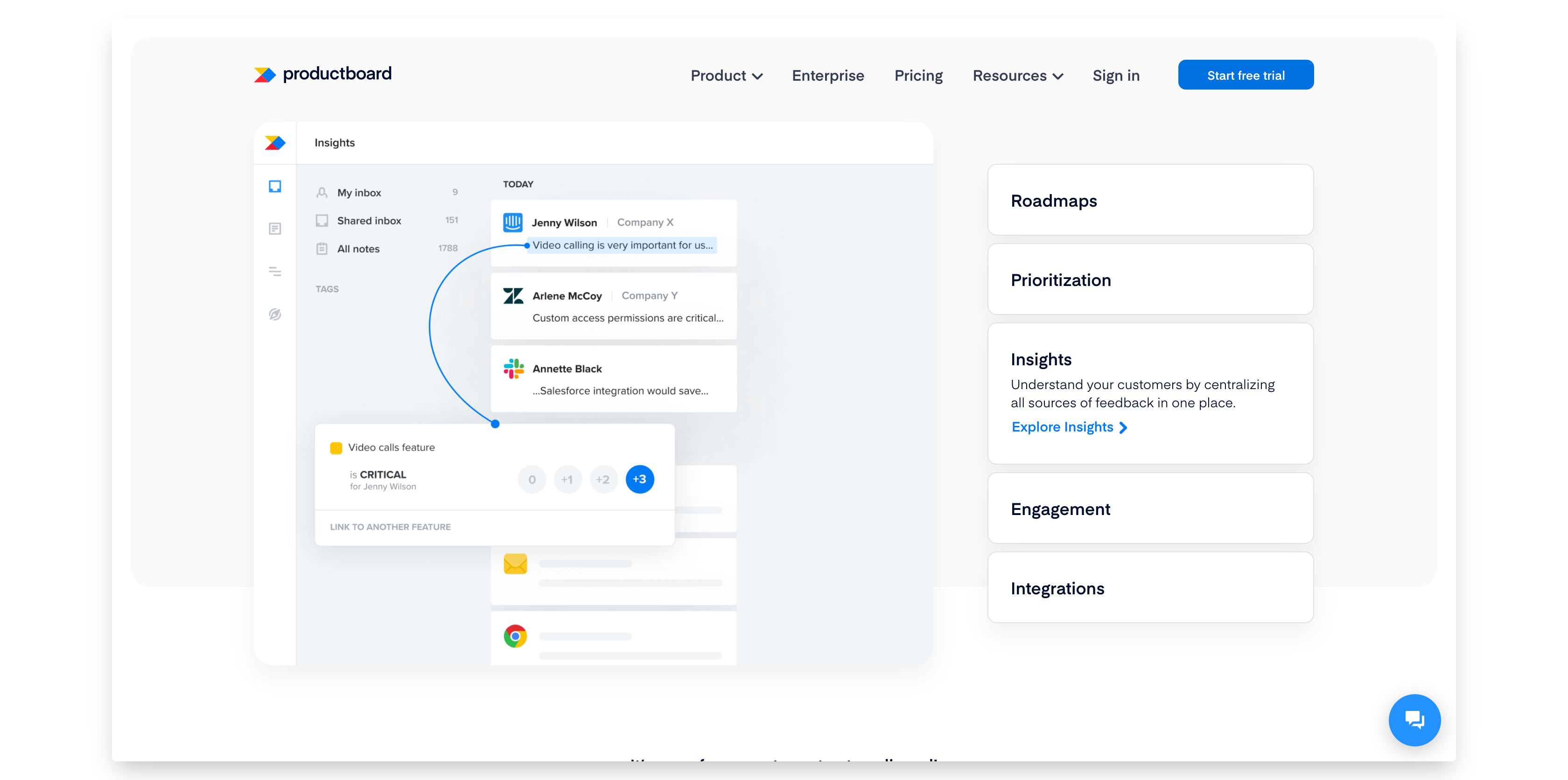 Productboard is more than just an idea upvoting and feedback collection tool. It's more or less a complete product management tool, offering a complex feature set for teams looking to go in-depth with feedback collection and road mapping.
You can get very granular with how you analyze the data from your customer feedback, making it a good option for teams with a lot of users and a lot of different features being requested.
The downside to complexity is a steep learning curve, and a long time to get set up. The additional features are overkill for many companies, who really just need something clean and simple.
The pricing may also be an issue. $60 per month (if you want the customer feedback portal) is not the worst, but it's charged per user, which means it gets expensive very fast if you need your whole team to use it.
Key points
An extensive and deep feature set

Essentially a full-stack product management tool
Impressive functionality for segmentation and prioritization of features/suggestions
A high learning curve, overcomplicated for what a lot of companies are looking for
Pricing of $60/mo is per user, which can get extremely expensive for your whole team to use
Github Discussions
If you don't want to sign up for a tool specifically designed for feature request management, and you already actively use GitHub, there are GitHub discussions.
GitHub discussions is a community forum on your GitHub repository. It allows people to post and participate in threads, which can be labeled and organized as you need. There are also upvoting and helpfulness votes.
The downside is that it's quite informal, and it doesn't offer the functionality that a purpose-built feedback collection tool does. It's really only suited for companies with a close-knit community of technical people, to whom going to GitHub to participate in feature discussions would be normal.
Key points
Simple 

Allows open discussion and upvoting
No need to sign up for a new tool or add an expensive subscription
Not a dedicated tool for request management, so functionality is limited
Customers need to leave your website or app to access it
Only really suitable for companies with technical audiences who are familiar with GitHub
Jira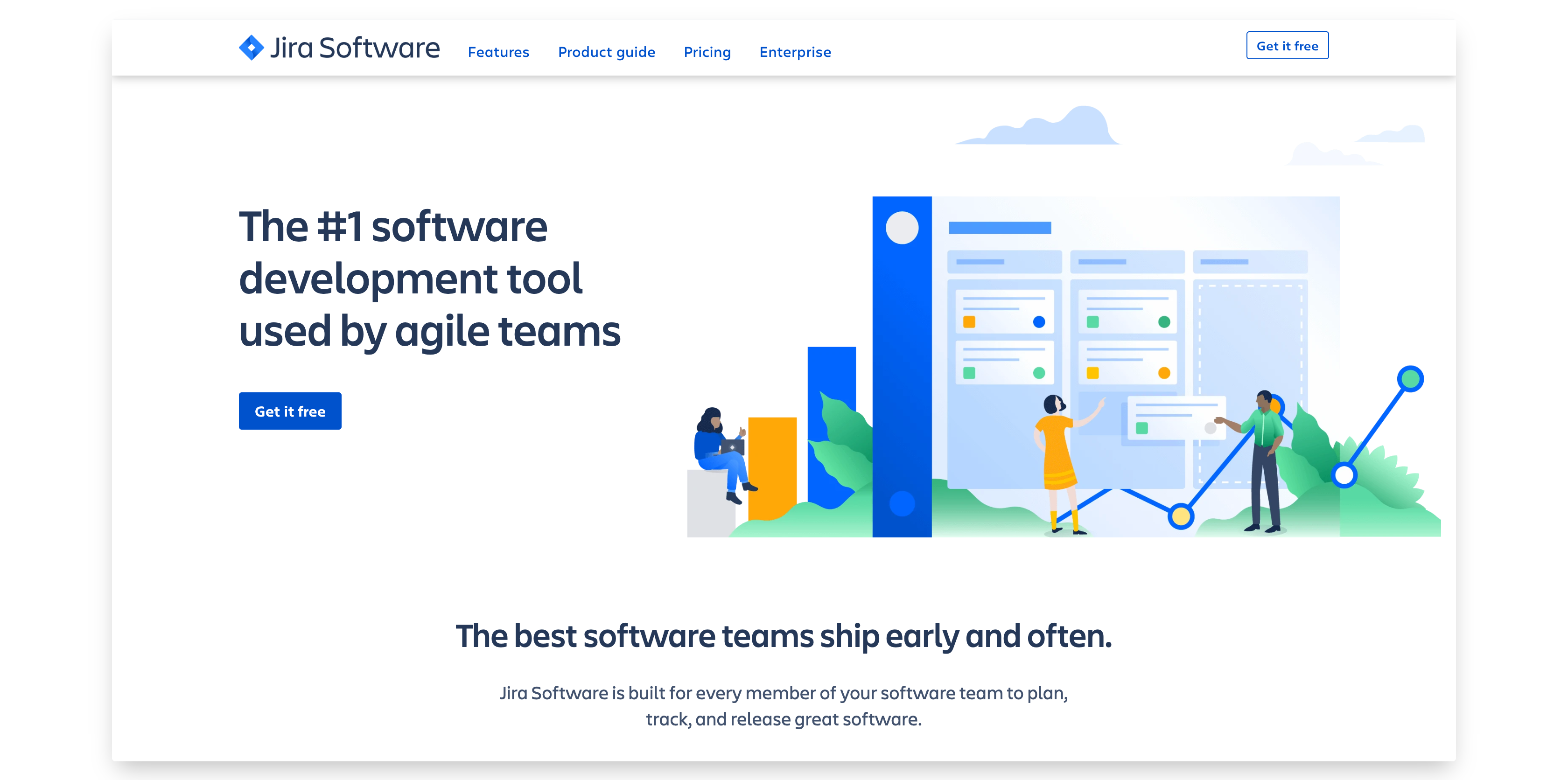 It's definitely not a new name in the industry. Jira is the most widely used software product management tool in the world. It's designed for agile teams to track progress and organize tasks on the latest development cycle.
A big plus is that it's available for free, with a feature set in the free plan that's enough for many small teams.
While its suitability as a feature request tracker is certainly limited, it can work if you're already a Jira user and dead-set against adding another subscription. You can't open your board to the public without inviting huge issues with spam, so the best way would be to collect feedback and requests from other channels and have your team members create cards for each of them.
Jira does have an upvoting feature, but as each user can only vote once on a single card (remember, the only users here are your team members in Jira), it's too hard to manually collect votes from your customers on certain features and then find ways to incorporate the actual votes.
Jira has been a household name in product management circles for some time, but there are more effective tools out there today, especially for tracking feature requests.
Key points
Product development tools are already in use in many companies

Free plan with most core functionalities
Includes road mapping, kanban board
The upvoting feature is very limited
Can't collect feature requests and take votes directly from your customers
A lot of people find it messy and overcomplicated
Google Sheets
All other options aside, a simple Google Sheet works as the bare minimum for companies that can't justify signing up for a dedicated tool to track feature requests.
Google Sheets is free, easy to enable collaboration within your team, and flexible. It works fine for internal tracking, as long as the number of feature requests coming in is still small and manageable.
Obviously, you're going to be limited in features compared to many of the other tools on this list, as Google Sheets is not set up and designed specifically for feature request management. But if you need a solution now, and you're not willing to pay for a new tool to do it, Google Sheets could fit the bill.
Key points
Free

Good for small teams tracking requests internally

Flexible, easy to use

Limited when it comes to collaborating with your users
Final Thoughts: What's the Best Feature Request Voting Tool in 2022?
With the combination of price, ease of use, and functionality, it's tough to beat FeedBear as the best feature request tracker on the market today.
It gives you a feedback collection portal, public roadmap, and changelog all in one place, along with a clean, modern design and the ability to close the loop with your customers. All this at an extremely affordable price.
If you don't need much in the way of features, or you want to keep things simple and avoid adding another subscription, you can think about tracking feature requests internally with Trello or Google Sheets or setting up a GitHub Discussions board.
Otherwise, try FeedBear to start collaborating with your customers and putting your resources towards building the right features.