In the world of product management, UserVoice is one of the most popular and best-known tools. It has tons of amazing features for product teams of all sizes and it's popular with enterprise customers. Perhaps you're interested in trying out UserVoice but you're not quite sure how much it costs and what the different plans really include.
Today, we'll show you all you need to know about UserVoice pricing.
How much does UserVoice cost? Plans for 2022
Up until recently, UserVoice had no pricing displayed on their website. To get the price, you would have to book a demo and sit through the call, only to find out that the cheapest price for UserVoice was around $400 per month. This didn't sit well with many potential customers, as they thought that the price was overly expensive and that the pricing policy needed more transparency.
In 2022, UserVoice changed their pricing and there are now five pricing plans on their website. UserVoice pricing starts at $199 per month when paid monthly.
UserVoice Validation - $199 per month
This is the newest addition to UserVoice plans and a way for you to get your feet wet with the product without paying hefty prices. At $199 per month (when paid monthly), it's still a very expensive product, considering that it's made for startups that want to validate their idea. Typically, a startup in the idea validation phase doesn't have money to spare and $199 is a bit steep.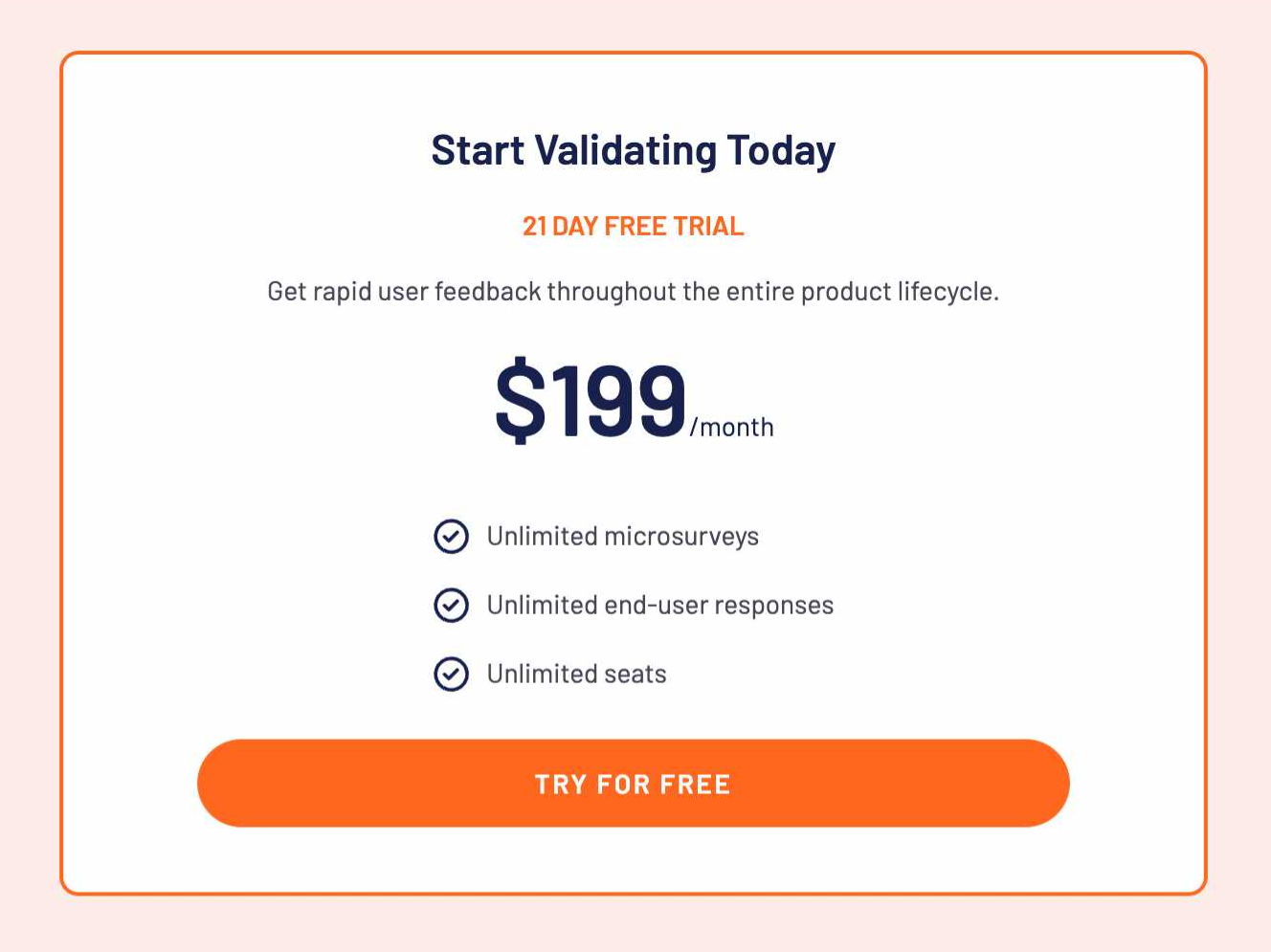 ​​
You could save some money and pay annually, getting Validation for $169 per month. However, you're then stuck with a product that is only good for validation for an entire year. While your mileage may vary, typically it doesn't take an entire year to validate a product. So there really is one pricing plan - $199 per month of use.
For that price, you get unlimited microsurveys, unlimited responses, and unlimited seats on your team. In short, you can create as many surveys as you want to poll potential customers and validate your product. The problem is, this is where the product ends and you cannot do anything more to store, manage and analyze this feedback.
And at $199 for surveys (albeit unlimited), there are many other tools that offer the same functionality, but are cheaper.
The good news is that there is finally a free trial available and you can try UserVoice in this plan for free for 21 days before deciding to purchase. This is completely new as up until recently, there was no free trial for this tool at all.
​​
Essentials - $799 per month
The cheapest "real" plan in Uservoice is $799 per month when billed quarterly. You can also decide to pay annually and pay $699 per month. In the world of SaaS, discounts for annual plans are not unusual. However, the quarter being the minimum increment is slightly odd, as most SaaS products offer monthly plans.
In short, you'll have to spend around $3,200 just to see if UserVoice is the product management tool for you. That is, if the free trial is not enough to get a taste - as you can try this plan for free for 21 days.
This plan is the first actual plan that allows you access to the proper UserVoice features, including the ability to capture, manage, store and analyze feedback. It includes up to 200 unique end users who can provide feedback, as well as the ability to capture internal feedback and vote on behalf of your customers. Moreover, you can create your own reports based on the feedback analysis from the tool itself.
It does not include a web portal or a changelog tool.
In short, this is the bare-bones package that makes the previous (already expensive) UserVoice plan look cheap in comparison. With the most basic features and a price tag of $799 per month (and a minimum of quarterly payments), this is a very expensive product feedback tool.
The most concerning part though is the cap on 200 unique end users. Unless you run a very small company, you're going to run out of your user capacity very, very quickly. Perhaps you sell to a small number of customers at a high monthly purchase value, in which case this is a good option.
For most companies though, the cheapest UserVoice plan is very expensive. Moreover, competitors that offer similar products (such as FeedBear) do so at the fraction of the price, with more features.
Pro - $999 per month
We're now at a point where you get to realize why enterprise customers love UserVoice - because they're the only ones who can afford the price tag. The price for Pro is $999 per month when billed quarterly or $899 per month when billed annually.
You get everything that you get in Essentials, with a few changes. The number of unique end users jumps from 200 to 1,000. The other differences are that you get access to a web portal and in-app widget to collect feedback, as well as a tool to send public status updates about new features.
In short, a very minor change that does not warrant a major increase in price. Especially so when we know that tools like FeedBear offer the same features for unlimited users at a small fraction of the cost.
There is a free trial available with this plan too. However, despite being the "middle" option, this is not the most popular UserVoice plan. The next one is.
Premium - $1,499 per month
According to UserVoice, most customers tend to go for this plan, which tells you something about the profile of companies that use this tool. If you pay annually, the price drops down to a mere $1,349 per month.
You would figure that at this price point, you would get unlimited customers who can supply feedback about your product. Well, not really - you get up to 5,000 customers. A major increase compared to the previous plan but still, far from unlimited.
In this plan, you can connect feedback data with other data sources, such as revenue and account data and you can also "provide feedback context and track feature development progress". While this sounds like a lot, they are the most basic product management features that most tools in the $100 price range have.
For some good news, there is a free trial available.
Custom - contact sales
If you want even more from UserVoice, you can get a custom plan with advanced security and premium support availability. However, the biggest advantage of this plan setup is that you can get a potentially unlimited number of customers who can supply feedback.
This is probably the most popular option with large accounts and we cannot give you any specific numbers for pricing
UserVoice pricing - the verdict
Up until a few months ago, you could not find out the price for a UserVoice plan until you jumped through a few hoops. With this in mind, having publicly available pricing and free trials is quite a progress for UserVoice, a tool known for being secretive about their pricing.
Having said that, UserVoice got even more expensive since the last time we wrote about their plans. At $400 per month, which was the old entry price, they were competitive with some tools in the market (such as Canny), but still overly expensive considering the features you get for the price.
In 2022, UserVoice is still an incredibly expensive tool that is going to remain popular only with large, enterprise companies.
A UserVoice Alternative for 2022 - FeedBear
If you're looking for one tool to collect, manage and store feedback at a much smaller price, make sure to check out FeedBear! Starting at $29 per month, you get access to unlimited users, unlimited feedback boards and roadmaps, and much more. Sign up today for a free trial!