UserVoice is a feedback management software that makes it possible for companies to capture, organize, prioritize and take action on customer feedback.
Try spending some time on their website and you'll see something is missing… yes, it's their pricing page.
No luck finding out how much you'll have to pay to use this software. You'll need to talk to a sales representative to get a quote.
UserVoice's price change
Back in 2015 they had a free plan, a $20 plan, a $55 plan and a $95/m pro plan.
Late in 2015 their pricing changed and they started charging $199/month, then $499/month for their product management software.
Here's a surprised customer, posting to Twitter in November 2015: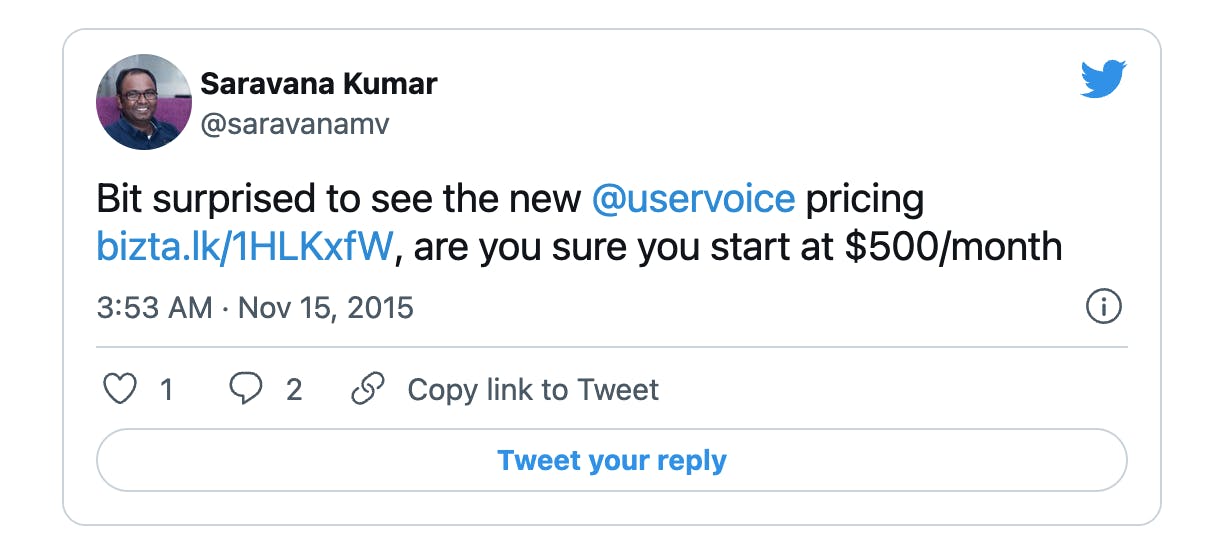 And directly from a UserVoice employee, posting on Quora, around the same time:
Our product management product starts at $499 because it's something that's most valuable at scale (rather than per user) hence the higher pricing.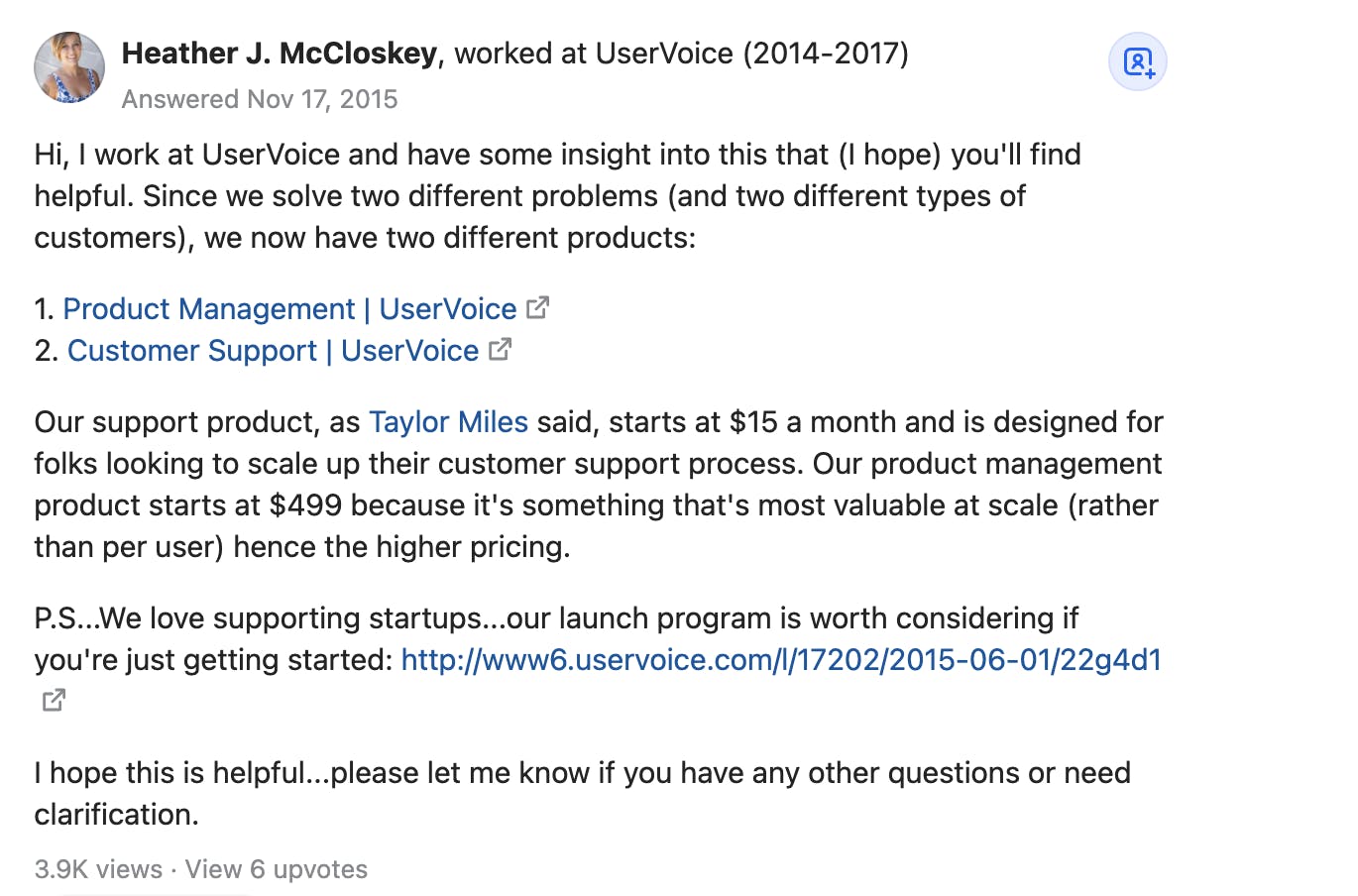 Nothing wrong with going upmarket to focus on enterprise market, but this will inevitably leave space to competitors with transparent pricing, willing to serve startups and small business customers.
FeedBear is just $29/month - all features, unlimited boards, unlimited feedback and ideas - and you can get started with a free 14 days trial.
Is there an UserVoice free trial?
There's no option for a free trial of UserVoice. They used to offer one back in 2014, but not today. You'll have to get on a demo call.
Discounted pricing for startups, non-profits and small businesses
It seems as of 2021 UserVoice offers no discounts for startups, small businesses or educational institutions. FeedBear instead offers a 20% discount for all educational institutions and early stage startups.
Is Uservoice still worth it in 2022?
No, we don't think so. There's many tools out there doing what they do, better and cheaper. To start, FeedBear gives you a customizable idea board, roadmap and changelog tool to keep customers engaged, all at a price at least 95% lower than Uservoice's - yes, that's insane!
There's other reasons to look elsewhere:
Uservoice's idea board tool has an outdated design.
Uservoice has too many features
If you're not a high paying customer, expect poor support
You can't even find out the pricing without talking to a sales agent
What's the best Uservoice alternative?
We've dedicated an entire article on the topic. Look at FeedBear, Canny, Productboard and Aha! as alternatives.
There's a lot in common between Uservoice and FeedBear. To start, both are solutions to manage customer feedback and for both, an idea board is the primary feature.
As you can imagine, since 2008 Uservoice has had a lot of time to build features and and respond to customer requests. You may see this as an advantage, but like many older products built for enterprise customers, Uservoice has become complex and bloated, meaning there's now a steep learning curve to get started and the whole product UI and UX feels outdated.
FeedBear was built with simplicity, speed and ease of use in mind, and our whole company and business model is designed to help startups and small businesses build better products by listening and involving their customers.
We publish our prices and make it easy for you to get set up on your own within minutes from starting a free trial.