In the continuous quest to make your SaaS product better, you probably collect all the feedback that you can get. Your customers are the most important - sure. But does anyone know the product better than the very people working on it?
A lot of times, the best feedback comes from your own team. They use your app, push it to its limits, and test new things every day. Moreover, they get to hear all the customer complaints and praises. So, it makes a lot of sense to hear your team out.
But how do you go about collecting their feedback and managing it in a sensible way? Here are a few options to consider.
Project management tools
We all use some form of project management tool to manage our daily flow of tasks. If you're in a tech team that's developing a SaaS product, it's likely Jira, Asana, ClickUp or some other similar type of tool. If your team members want to leave you product feedback here, it's a pretty decent choice.
No matter your app preference, every project management tool has tasks, cards, boards and columns that you can choose for leaving feedback internally. Instead of jotting it down elsewhere, they can write down what they think needs to be improved on the spot. Your dev team can then take those cards/comments and turn them into tasks, shortening the feedback loop.
This sounds great in theory, but in practice, it's not perfect by any means. This system means that every team member needs to create a new task, note or card for a new piece of feedback or search the existing database for a similar note by someone else. Moreover, if they see a piece of feedback or a feature request, they can't upvote it or rank it higher because very few project management tools have this option.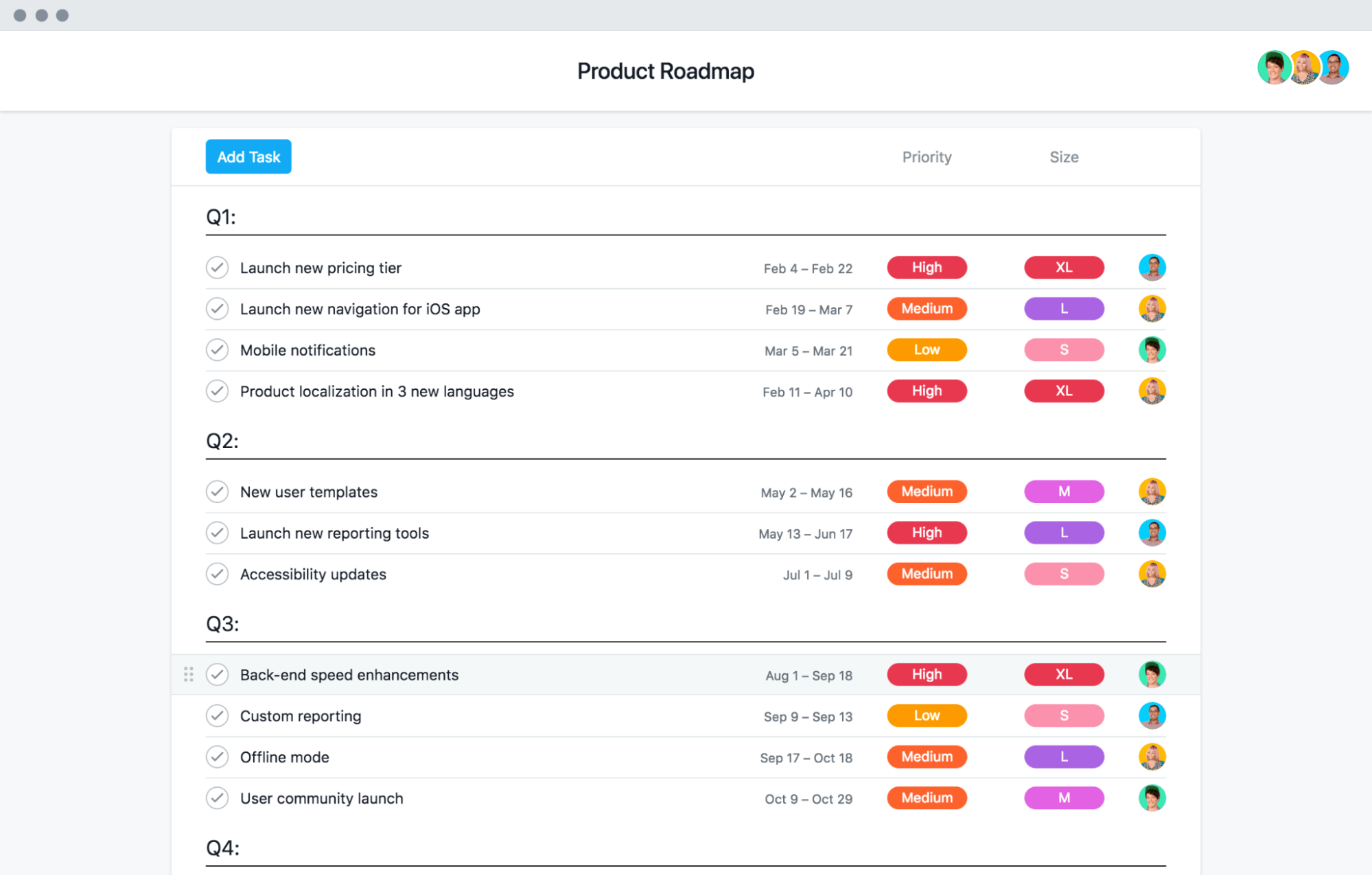 An example of a product roadmap in Asana
Last but not least, it can be very difficult to merge and categorize the internal feedback from your project management tool with the feedback from your customers, or affiliate partners, for example. Unless you have some sort of Zapier magic going on with emails from customers being turned into Trello cards, it will be difficult to have both internal and customer feedback in your PM tool.
There are some tools such as Trello that can be pretty good for creating product roadmaps, but they don't have much going on in the process that happens before the roadmap.
All in all, project management tools are great for managing your day-to-day tasks but they are not so great at capturing your team's feedback.
Emails
We all use emails and they take up a good chunk of our day. That makes them a great platform for exchanging internal feedback about your product. If someone has an idea about an improvement or a feature, they can just send an email to your product manager or a dedicated feedback address. Since they're sending emails every day, this shouldn't be a problem, right?
In fact, that just might be the biggest problem. We all get hundreds of emails daily and it's pretty easy to get lost in your own emails. When you have 1389 unopened emails, the last thing you'll think about is sending the developers an email about that bug you saw on staging last night.
On top of the clunkiness, email suffers from another issue. Say that you have a separate address just for collecting feedback from your team. You'll have to organize the emails into buckets according to priority, the type of feedback, the team it came from, and more. Once you do that, you'll need to prioritize the tasks that need immediate attention. Unless you have some special plugin to do this for you, the standard inbox features won't cut it for sorting your product feedback.
While it may seem convenient, email is far from perfect for capturing and managing feedback internally. If you do decide to go this route, you will need something on top of your standard email provider such as Gmail, for one simple reason. Voting is a crucial feature for any type of feedback and with email as a format, it's pretty complicated to vote on anything, be it internal or external feedback.
Forums
If you're around my age, you've probably spent some time in your teens on forums. Before social media became big, forums were the best thing for meeting new people and exchanging information. You can set up a forum in a few minutes nowadays and they're fairly easy to use. With a short introduction to the format, your team can use forums to provide feedback.
While they are easy to set up, you still have to think of a way to structure your forum. You need to divide it into sections and open threads for different feature requests and bugs and come up with a way to get a birds' eye view of your entire internal feedback system.

Wrike's feedback forum
In an age when we're used to information being dynamic, forums are a bit outdated and it may take your team to get accustomed to them. While they are easy to use, the adoption rate may be far from what you're expecting.
They can be a great way to foster a sense of community and encourage your team to get in discussions. Everyone can discuss features/bugs/requests in different topics, attach images, code snippets, videos, etc.
One major thing that forums are lacking is the ability to vote on features and feedback. While there are ways to incorporate this in a forum, you cannot immediately apply the results as you could with a proper product feedback tool.
Slack/team messaging tools
Just like many companies use project management apps nowadays, team chat apps such as Slack are equally popular. They are great for communicating with your team, especially in an era when remote work is becoming the new norm. Besides communication, Slack and similar apps have tons of useful plugins and integrations that can be extremely helpful.
If you want to encourage your team members to leave feedback about your product quickly and effortlessly, just make sure to ask them to leave it in Slack. They can type out a message in a Slack channel and leave it be. You can then upvote it using emojis or some other type of system you come up with.
You can also get Slack to send you messages from other apps through integrations. For example, if a bug is created in Jira, you can set it up to send you a notification for each new task in a separate Slack channel. Moreover, you can set up any app you communicate through to send a message in a Slack channel of your choice.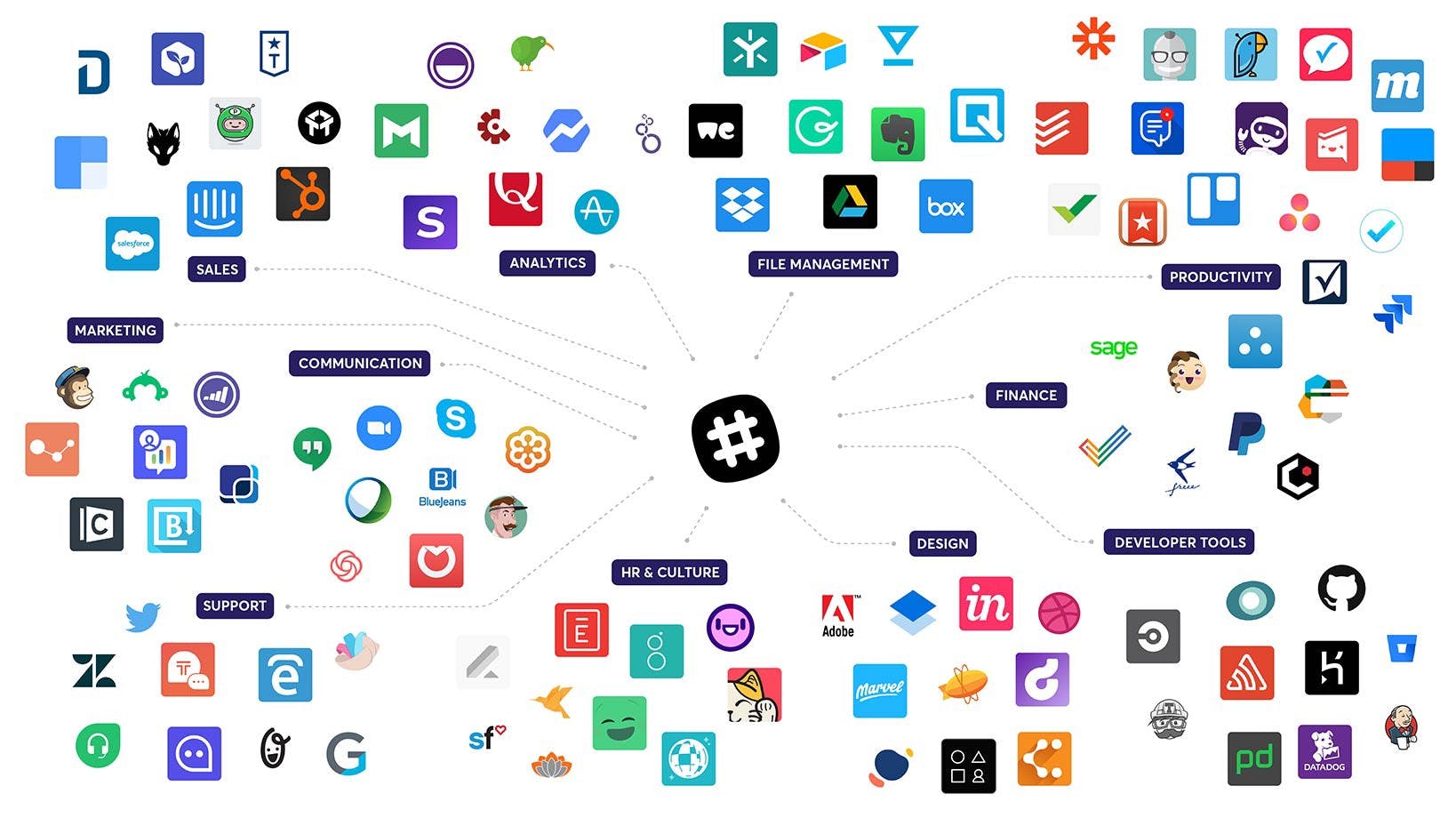 There is a downside, though. First of all, you'll have to look for an integration (or several) to make use of Slack for product feedback. Zapier is a tool that can integrate pretty much anything you want if there is no suitable Slack integration available. This can take time and money to get right and there's no guarantee you'll find a combination that works for you.
The second problem is the issue of cost. If you're on a free Slack plan, your messages will disappear and you won't see your history once you cross 10,000 sent messages. If you want to unlock your history, you'll have to pay for accounts for your entire team. If your team is small enough, you don't really need a paid Slack account. And if your product feedback keeps disappearing, Slack is pretty useless. 
Then there is the issue of integrations. Whether you use Zapier or something else for making Slack a product feedback powerhouse, you'll have to pay for each new tool you add, racking up costs. And at this point, why not pay for a separate tool just for internal feedback?
Last but not least, Slack can get very busy and noisy if you have a larger team - imagine all the product discussions mixed up with blog marketing, sales, customer support... Finding the right message using its search function can be a proper hassle. You can generate some great ideas in Slack but getting to them months later is a whole different issue. Even if you strongly encourage threaded communication, not every team member will use threads. All of this combined makes Slack feedback a great idea in theory, but practice shows otherwise.
There are other chat tools such as Microsoft Teams but they are all inferior in terms of customization and integrations.
A customer feedback tool
In the end, you may think that using a customer feedback tool such as FeedBear may be too much. If you JUST want to collect product feedback from your team, it could be too much, right?
Well, not really. Tools such as FeedBear allow you to combine feedback from multiple sources. That way, you can combine what your team has been telling you with the feedback from your customers and put it all into one place, without repeating the same issues, bugs and feature requests.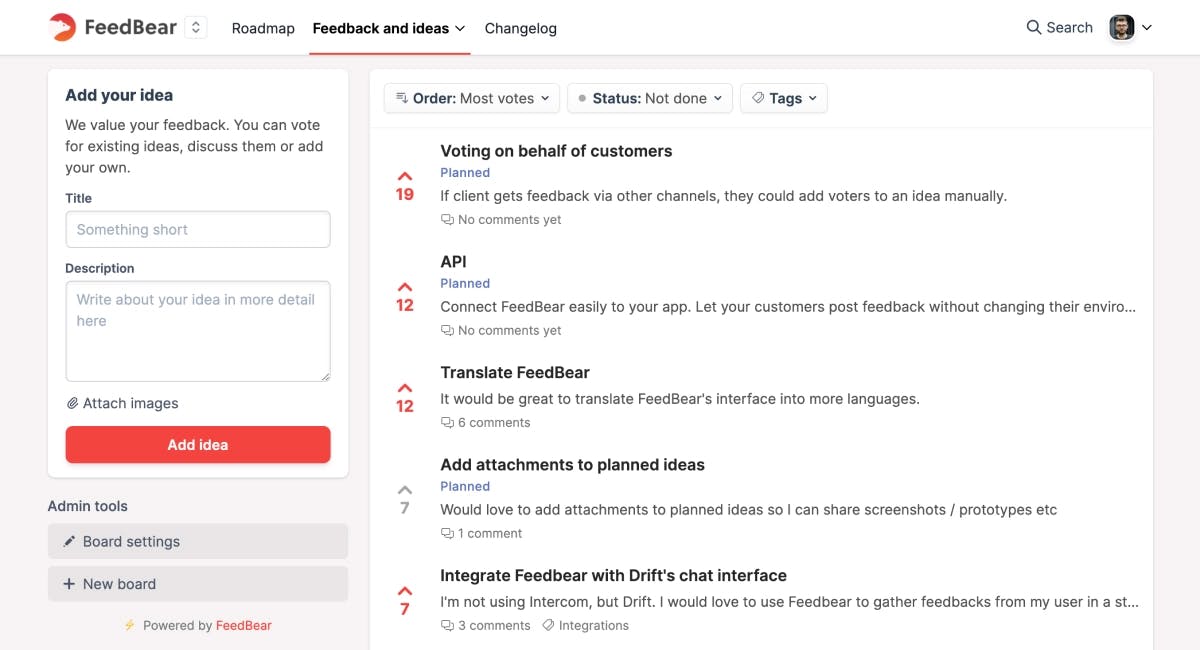 Not only that but you can organize the feedback that you get internally with FeedBear. You can put it on different boards and assign it different tags. That way, you can have all the feedback from different sources, tagged accordingly. Need to quickly pull up just the internal feedback? Just trigger the right tags and it will show only the comments you want to read. Moreover, the search feature will help you find exactly what you need in seconds.
FeedBear also takes care of one crucial aspect - it will never create duplicate feature requests. If a customer has already brought something up and your team member sees it, they will be able to spot it in FeedBear before making another feature request on their own.
Speaking of which, you can use the voting function as well. In other platforms, this is not so easy to incorporate but with FeedBear, you can easily vote on anything your team suggests.

Not only that, but once a feature is up for voting, your team can discuss it. That way, everyone can be on the same page.
To close the loop and show your employees that you're really incorporating their feedback, you can create a roadmap. This is a pretty common tool to show your product's progress, but you can use FeedBear to create a private roadmap instead of a public one for your customers. That way, only your team will be able to see that you're working on the fixes, bugs, and features they suggested themselves.
You can also make your private board into a public one, allowing all of your customers to get involved. Or you can invite only some of your team members, all of the company or open the roadmap to just some parts of the user base.
If a customer sends in a vote for a feature through a channel other than the roadmap, you can vote on their behalf. That way, you'll never lose track of the total score.
Once a feature goes live, you can send an update to everyone that requested it. Moreover, everyone who left a vote will also get a notification about a status update for a feature. This works for your customers, as well as your own team members. Want to make someone feel appreciated? There's no better way than sending out an update letting them know you've handled their request.
So, what's the best way to collect and manage feedback internally?
There are quite a few ways to go about it, as you can see. Each has its pros and cons and none of them is ideal for getting feedback internally… Except for a proper feedback tool such as FeedBear. It's built for this purpose and it allows you to easily capture feedback across different channels and make your team's voices heard.
You can try it free for 14 days and you'll see exactly why it's the BEST way to get insights from your team about your SaaS products.
And when you're ready to get serious about managing feedback internally, you can opt for the paid plan which gives you ALL the features at a flat $29 per month. Sign up today to get started!