How To Conduct Customer Interviews
In your desire to engage your customers and get better feedback, you're likely to try a few things. One method of receiving feedback that gets excellent results is to do customer interviews. If done right, customer interviews have massive potential to uncover new product ideas, gather feedback and engage with your customers.
However, you can't just hop on a call with the first customer you think of and ask them any random question. Here's how to do customer interviews, the right way.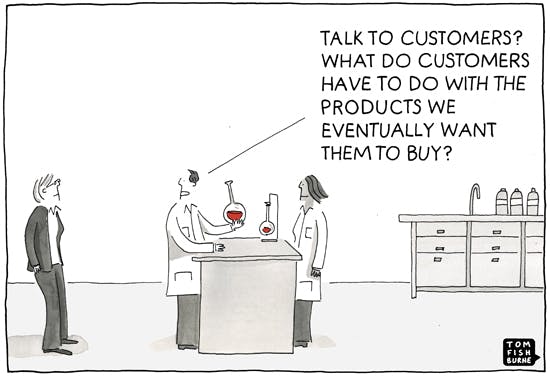 Source: Marketoonist
Decide on the goal of the interview
What is the main purpose of doing customer interviews? Before you do anything else, make sure to find out this key piece of information.
It could be to gather more feedback about the latest feature that you launched. Perhaps you want to find out if your new pricing structure makes sense. Or perhaps, you don't even have any customers yet and you want to find out if you have something worth buying.
Whatever the case, decide on the purpose of the call. It will make the entire process more meaningful and your customers will be more likely to participate if they know why you're calling them.
There's another important aspect here. Your goal will determine the number of people you need to interview as well. If you're just looking to get feedback on a new feature you launched, you'll talk to e.g. 20 people instead of 200 if you're getting feedback on your overall product.
No goal? No problem
Do you think that you should only run customer interviews when you want to learn something or improve your offer?
Well, think again.
Customer interviews are always a good idea, no matter how good you think you're doing with your sales or marketing. As part of your customer support efforts, set aside a few hours every month to talk to your customers and learn from them. The best time to fix problems is before they even get a chance to escalate.
Determine the type of customers you want to call
If you've taken care of step 1 and determined your goal, the second step is closely related to it. Depending on the goal you want to achieve, you'll talk to different types of customers.
For example, you run a SaaS business, and all of a sudden an increasing number of customers is churning. You'll want to talk to customers who recently stopped paying for your subscription.
On the other hand, maybe you have a CRM that is increasingly used by real estate professionals. You want to learn if it's worth further niching down into this vertical, so you'll talk to real estate agents.
Maybe you don't have customers just yet and you want to talk to a potential target audience to see if they're willing to invest money in what you have to sell.
In any case, you'll choose the right type of customer based on the goal of your customer research and the problem you've set out to solve.
Choose who gets to be on the call
When conducting customer interviews, you need to decide who makes the call and who gets to participate. In larger teams, there could be several people in the customer interview, but a single person can do the job equally well.
It's common to have one person interviewing the customer while someone else has the role of the note-taker and they will jot down everything they hear on the call. If you want to do everything on your own, just make sure to record the call - with the customer's permission.
If you have a larger team, you can have people from customer success, product, marketing or sales on the call. Depending on what you want to find out and how important the customer is, you can determine the number and type of people you want on the call.
Create the customer interview questions
Arguably the most important step of the entire customer interview process, the questions will determine the quality of the answers you get. While we can't tell you the specific questions to ask, there are some general best practices to keep in mind.
By the way, if you're looking for a great tool to capture customer feedback, give FeedBear a try! You can sign up for free today to get started!
Start off with the personal questions
Before getting into the heart of the problem, ask your customers questions about themselves. For example:
What do you do at work?
How big is your team?
What does a typical day at work look like for you?
Your main goal is to find out more about them and get them to relax a little bit before asking questions directly related to your product or service.
Ask open-ended questions
There is a lot of power in asking a question that can be answered with a yes or no. It's easy to measure and quantify these answers and you get done with the interview fairly quickly. However, you should aim to get the customers' opinions, which requires open-ended questions.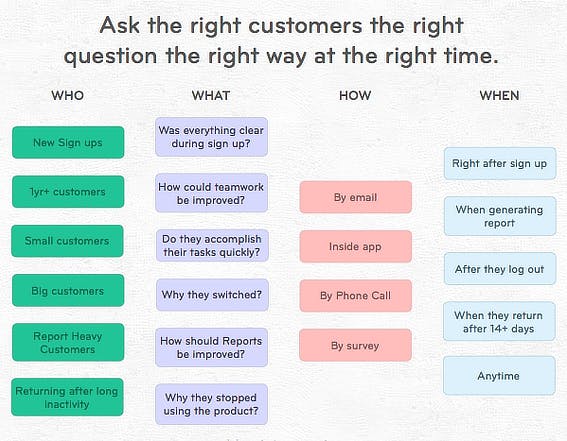 Instead of asking a question such as "Is our product useful for your design team?", ask a question such as "How useful is our product for your design team?", to encourage as many opinions and stories as possible.
Examples of open-ended questions for customer interviews:
How can we make our product better?
Tell me about your role. How many in your product team?
What does a typical day look like?
How do you collect feedback from customers today?
How often do you talk to customers or collect feedback?
What's your biggest challenge with getting ideas and feedback from customers?
What's the biggest reason to collect feedback, what value does it bring?
Do you use any tools to manage feedback from customers?
Do you share a roadmap with your customers?
Why do you (or why don't you) share your roadmap?
Do you use any tools to create and share your product roadmap?
Have you used any other tools for this in the past?
How well are your tools working for you right now?
Is there anything you wish you could do that you can't do at the moment?
If you could build the perfect tool in this space, what would it look like?
I've been working on a product in this space, can I give you a demo and get your feedback?
Could I follow up with you to show you what we have?
However, there is one thing to watch out for.
Do not lead the customers on
Take a look at a question such as "Would you say that our onboarding is intuitive?". It's a properly formulated question and it can be answered with yes or no or a more elaborate answer. However, the question is leading the customers into thinking about one aspect of your onboarding and their minds will naturally go towards this aspect alone.
Instead, try asking a question such as "How do you feel about our onboarding process?".
When you frame the question in this way, you're giving the customers more opportunities to express their opinion instead of (un)intentionally forcing them to look at the question from just one angle.
Don't be afraid to ask follow-up questions
While most customer interviews have a fairly strict framework, don't be afraid to ask additional questions if you feel like there's something more besides what the customer is already telling you. One or two additional questions may make the interview last a couple of minutes longer but could add massive value to the final product of the interview.

Ask Wh- questions
The best questions for getting high-quality feedback are those that start with "Wh-". In other words, you want to ask questions starting with:
The idea is that these will encourage customers to open up about their experiences instead of asking them a specific question with a specific answer. These questions allow the customer to go in-depth with their answer, as much as they would like.
Reach out to your customers
If you've done all the preparations, it's time to get in touch with customers and ask them for an interview. If you have a clearly defined goal for your interviews, you'll know exactly which customers you want to get in touch with. For example, if you want to learn if a new feature is useful, you'll reach out to a segment of your audience that has used those features.
If you fiddle around with your customer list within your app dashboard, it should be fairly simple to find a list of users who tried a new feature, for example.
Getting an interview is kind of a big ask since you're asking customers to set aside half an hour of their time to talk to you.
This means that asking them on social media probably won't get your desired effects since it's not very personal. Instead, use email as a channel and build a highly targeted list of customers that you know will have great feedback for you.
And then, the ask. It's always a good idea to let customers know why they're being interviewed and ideally make it something that benefits them. For example, you could tell them that they're doing an interview to:
Improve your product for them
Provide a better user experience
Decrease the cost of the product for them
Help launch a new feature
Etc.
This is one of the most important steps so make sure to formulate the ask and the reasons very carefully.
You could also offer an incentive to your customers for taking part in the interview. This could be literally anything, including:
A gift card
Company-related merchandise
Free access to your premium features for a certain period
A subscription to Netflix or some other online service
Anything that comes to mind
Your users should primarily be motivated to help you rather than be in it for the reward, but it's a nice extra to help them decide in your favor.
But what if I don't have customers?
If you haven't launched a product yet and you don't have anything to sell, you have no customers either. But still, you want to interview potential customers to find out how they feel about your offer.
In this situation, you can just go out and ask people to give you their opinion on your product. If all you ask of them is a bit of their free time, they are sure to say yes.
For example, we've had a lot of success asking people on LinkedIn about FeedBear before we started. We'd just reach out to people in a message and asked if they could test out our tool and give it some feedback. No strings attached, nothing else they had to do.
The results were pretty great - people actually love when they get to voice their own opinion. In the world of B2B SaaS, going to LinkedIn is a pretty viable idea.
When doing the interview, focus on listening rather than speaking
You have a list of questions ahead of you and you should stick to them to some degree. As mentioned above, asking follow-up questions is a decent idea as well. However, as the interviewer, you should be silent for the most part of the interview.
The aim is to get information from the customers and therefore, you should be listening rather than talking.
It could be a temptation to jump in and ask some additional questions but you should never interrupt the customer as they're responding to an open-ended question. When you do ask additional questions, make sure that they're brief and encourage the customer to speak even more about their experience.
At the very end of the interview, allow the customers to ask you questions and talk about things that they feel they missed. There's a good chance that they wanted to say something which you didn't cover in your questions, so this part of the interview could unearth some gold nuggets.
End the interview and thank the customer
A half an hour of a customer's time is worth pure gold for anyone that has to refine their offering. Besides giving your customer their promised incentive (as mentioned above), now is the time to thank the customer from the bottom of your heart.
Let them know that their opinion is appreciated and that their feedback will be used to improve your product or service. If you know when they can expect an update from your end, this is the time to tell them this information.
Log the data and leave it with your team
Once the interview is done, you should categorize and log the data so that it could be shared with your team. If you have audio/video interviews, you're going to need to make transcripts. Some tools that you could use for sharing this data internally include:
- Google Docs
- Notion
- Evernote
- Google Keep
Or just use FeedBear to have it all in one place!
Wrapping up
Customer interviews are one of those things that sound like they're extremely simple but in fact require lots of work and attention. When done right, they can be incredibly helpful for your marketing, sales, product, and other teams.
When done wrong, customer interviews are a waste of time for your team and even worse, your customers.
We hope this guide has given you enough information to conduct a successful customer interview. 
By the way, if you're looking for an effective way to gather customer feedback without spending time on interviews, check out Feedbear! You can easily capture feedback from your users and store it all in one place, where both your team and the customers can see it. Sign up for a free trial today to get started!
Start listening to your customers
Understand what they really want. Build the right product.