Developing and launching successful products requires careful planning, coordination, and execution. Product teams follow a product planning process that involves strategic steps to create innovative solutions to meet customer needs and drive business growth. It includes steps like ideation, research, market analysis, roadmapping, requirements management, collaboration, and decision-making. Each stage requires attention to detail, effective communication, and adaptability to changing markets.
Traditionally, product planning relied on manual methods and disjointed systems, leading to inefficiencies, misalignment, and missed opportunities. However, sophisticated software now enables businesses to streamline processes, enhance collaboration, and make informed decisions for product success.
What is Product Planning Software?
To simplify this complex process, product teams need effective tools that streamline planning from start to finish. Product planning software allows product builders to research, develop, and bring products to market. These software help businesses streamline all the steps of product planning i.e. research, plan, develop, and launch new products.
Let's discuss a few of these steps that product planning software help with.
Idea Management: Use these tools to capture, organize, and prioritize new product ideas.
Roadmapping: Create and visualize a product development roadmap and track progress against it.
Requirements Management: Capture and manage product requirements and ensure they are met throughout the development process.
Collaboration: Work together and share information in real-time.
Analytics: Gain insights into the product development process and make data-driven decisions.
Why is using Product Planning Software Useful?
Product planning software can be very beneficial for:
Improved teamwork: Product planning software enables team members to collaborate easily, regardless of their location. This enhances teamwork and ensures everyone is working towards the same goal.
Time and resource savings: By improving the efficiency of product development tools, product planning software helps businesses save time and resources.
Better product quality: By capturing and managing product requirements in one place, these planning tools ensure that the final product meets customer needs and expectations.
Early identification and mitigation of risks: By providing insights into the product development process, these tools can help identify and mitigate risks early on.
Informed decision-making: By providing data-driven insights, product planning software helps businesses make informed decisions about product development.
How to Select the Right Product Planning Software
The most expensive tool isn't always the best fit for your business. Pick a platform that provides good value and suits your business needs.
When looking at software features, see how each one aligns with your business goals. Check if the tool lets you customize it to your needs. When thinking about ease of use, look at how long it takes to train your team and learn how to use the software.
You should also check if the software integrates with other tools you use and see how well it works with your project management, collaboration, and analytics tools.
Let's discuss a few points for criteria to check product planning tools that fit your needs.
List of Top 10 Product Planning Software
We have researched and selected the best product planning tools available in the market for our list. We used criteria such as pricing, features, ease of use, and integration capability to make our selection.
FeedBear: The Best Product Planning Solution for MVP to New Product Lines
FeedBear is a modern and affordable product planning software designed to help teams manage the product planning process in a customer-centric way. Our platform offers a wide range of benefits that can help your team stay organized, collaborate effectively, and keep your customers engaged.
Why FeedBear is your best choice for Product Planning?
Idea Board: FeedBear simplifies gathering feedback and ideas from your team and customers. It provides a virtual idea board where anyone can submit feedback and ideas to improve your product or product plan. Users, team members, and stakeholders can comment and vote on suggestions. You can keep the board internal for team ideas or create a public board for customer feedback. This approach aligns product development with customer needs, enhancing satisfaction and reducing churn.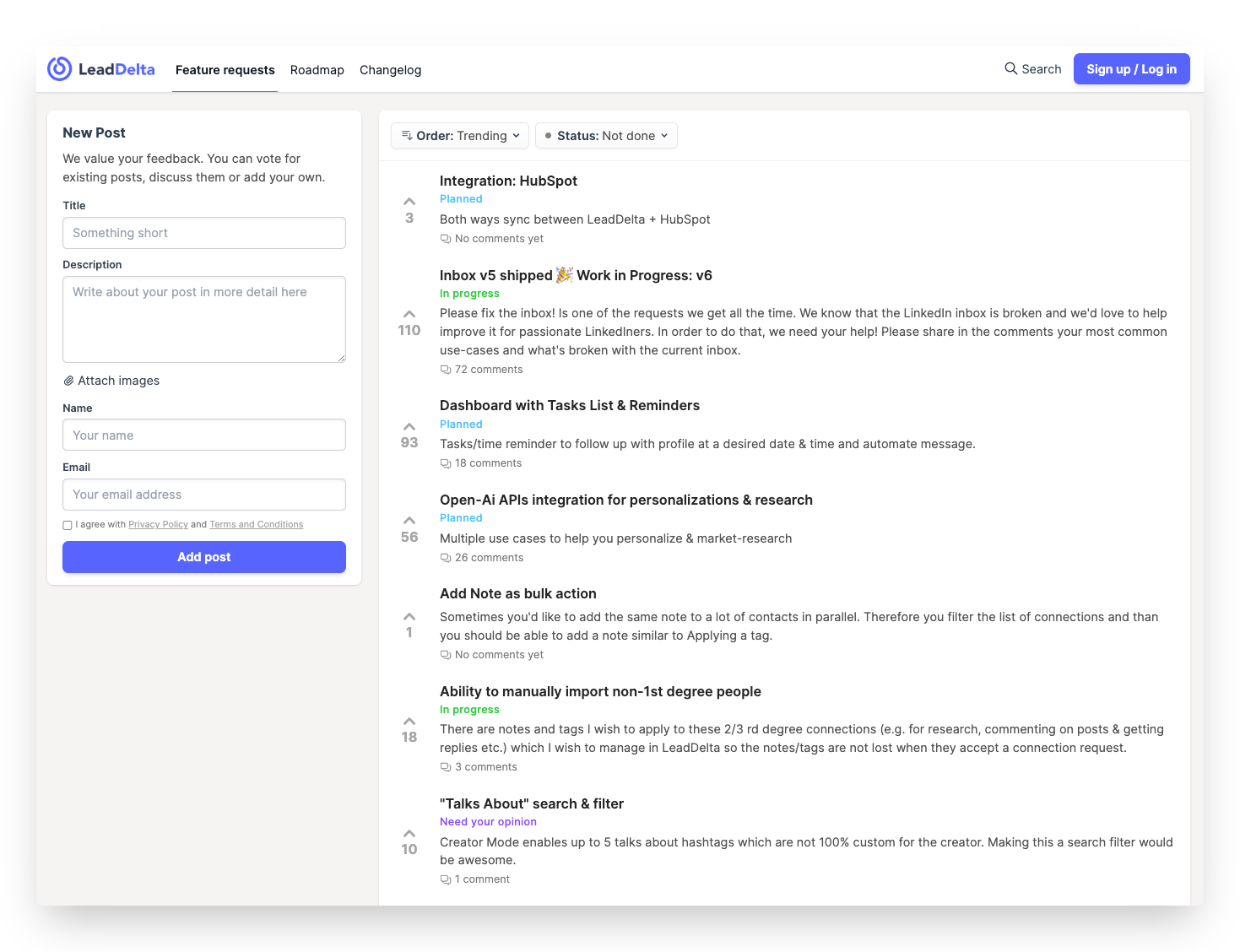 Visual Product Roadmap: With FeedBear, easily create and manage a visual product roadmap. Our customizable columns help you organize and prioritize projects, ensuring team alignment and shared goals. You can keep the roadmap public or restrict it to only your team members – that's your choice.
Collaborate with Your Team: Collaboration is essential to success in software development. With FeedBear, you can assign tasks and communicate with your team in real-time. This ensures that everyone is working together effectively and efficiently. Our platform allows you to build a sense of community among your team members and ensure that everyone is engaged and motivated.
Engage Your Customers: Keeping your customers engaged is key to reducing churn and improving retention. With FeedBear, you can share your roadmap with your customers and demonstrate that you're listening to their feedback. This fosters a sense of community and loyalty among your customers, reducing churn and improving retention.
Announce New Features and Releases: With FeedBear's built-in changelog, you can keep your customers informed of new features and releases. This closes the feedback loop and generates excitement for your product. You can let your customers know that their feedback is being taken seriously and that you're working hard to improve your product.
Integrate with Your Favorite Tools: At FeedBear, we understand that you have your workflow and tools. That's why we integrate seamlessly with popular tools like Trello, Jira, Intercom, Slack, and Zapier. This makes it easy to incorporate FeedBear into your existing workflow and ensures that everything is working together smoothly.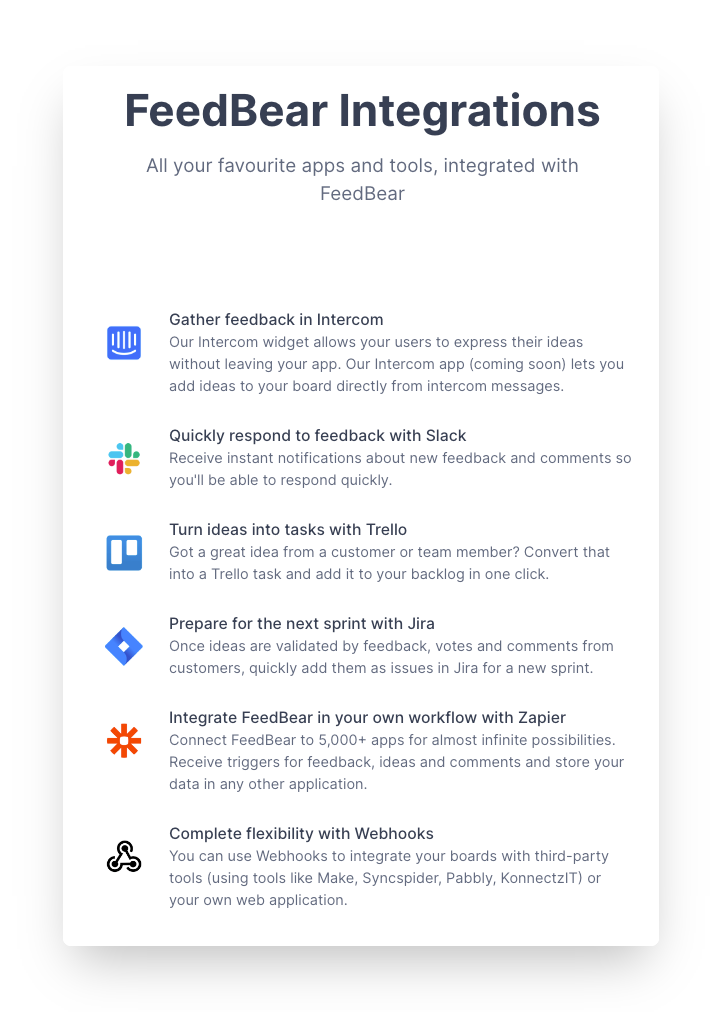 Simple and Customizable Design: FeedBear's simple and customizable design makes it easy to get started with little to no learning curve. You can publish your roadmap from your domain, on your website, or inside your application. This ensures that it's accessible to your team and customers wherever they are.
Pricing
Basic Plan: Starting at just $49 per month, the basic plan is an affordable option for startups and small businesses. You get a wide range of features and benefits at an incredibly low price point.
Business Plan: For bigger teams, the business plan starts at $199 per month. This plan offers additional features and benefits to meet the needs of larger teams.
Strengths:
FeedBear allows users to add all their ideas and suggestions and lets other users vote for the ones they like, giving a deeper understanding of what should be prioritized.
It gives a platform for keeping customers posted about updates that are in progress, creating a sense of community and loyalty.
FeedBear sends automatic status updates as you work on your product or make progress on customer requests.
The UI is super simple and easy to use, making it accessible to all team members.
Users can submit an idea without needing to give their email, reducing friction points for feedback.
FeedBear is intuitive and easy to use, allowing for quick and easy feedback management and feature building.
FeedBear is a startup-friendly product planning software that can help your team stay organized, collaborate effectively, and keep your customers engaged and informed.
With its modern design and powerful features, it's sure to be a valuable addition to your workflow. Try FeedBear today and see the difference it can make for your team!
Chisel Labs
Chisel Labs is a product planning software primarily designed for product managers. It offers a simple and easy-to-use interface that empowers users to create product roadmaps, gather customer feedback, and align team members with the product vision. With its audience panel, users can conduct surveys and get direct customer feedback to validate user needs and make informed decisions.
Core Features
Chisel offers a free roadmap tool for product managers.
The tool helps break down products into components and prioritize feature requests based on customer reach, customer value, revenue expected, and anticipated effort using Treeview.
The Team Radar feature facilitates prioritization and decision-making by involving team members, aligning priorities, and managing disagreements.
Chisel's Idea Box feature allows for collecting customer feedback and building direct customer connections.
Pricing
Chisel provides three pricing packages: Essential, Premium, and Enterprise.
The Essential package is completely free and comes with prioritization features, unlimited product/project roadmaps, and customer surveys with 100 free responses.
The Premium package is priced at $49/month and includes all the features of the Essential package, along with additional customer surveys, onboarding/training, priority support, integrations, and a dedicated customer success manager.
For larger companies, Chisel offers the Enterprise package which includes all the Premium features and more. Pricing for the Enterprise package is available upon contacting the sales team.
Chisel also provides a 14-day free trial of the Premium package. Sign up today to experience the full range of features and benefits!
Praxie
Praxie offers an innovation management platform suitable for product planning. It helps businesses manage their innovation processes by allowing them to collect and manage ideas, collaborate with team members, and track progress. The platform is fully customizable and can be tailored to meet the specific needs of each business.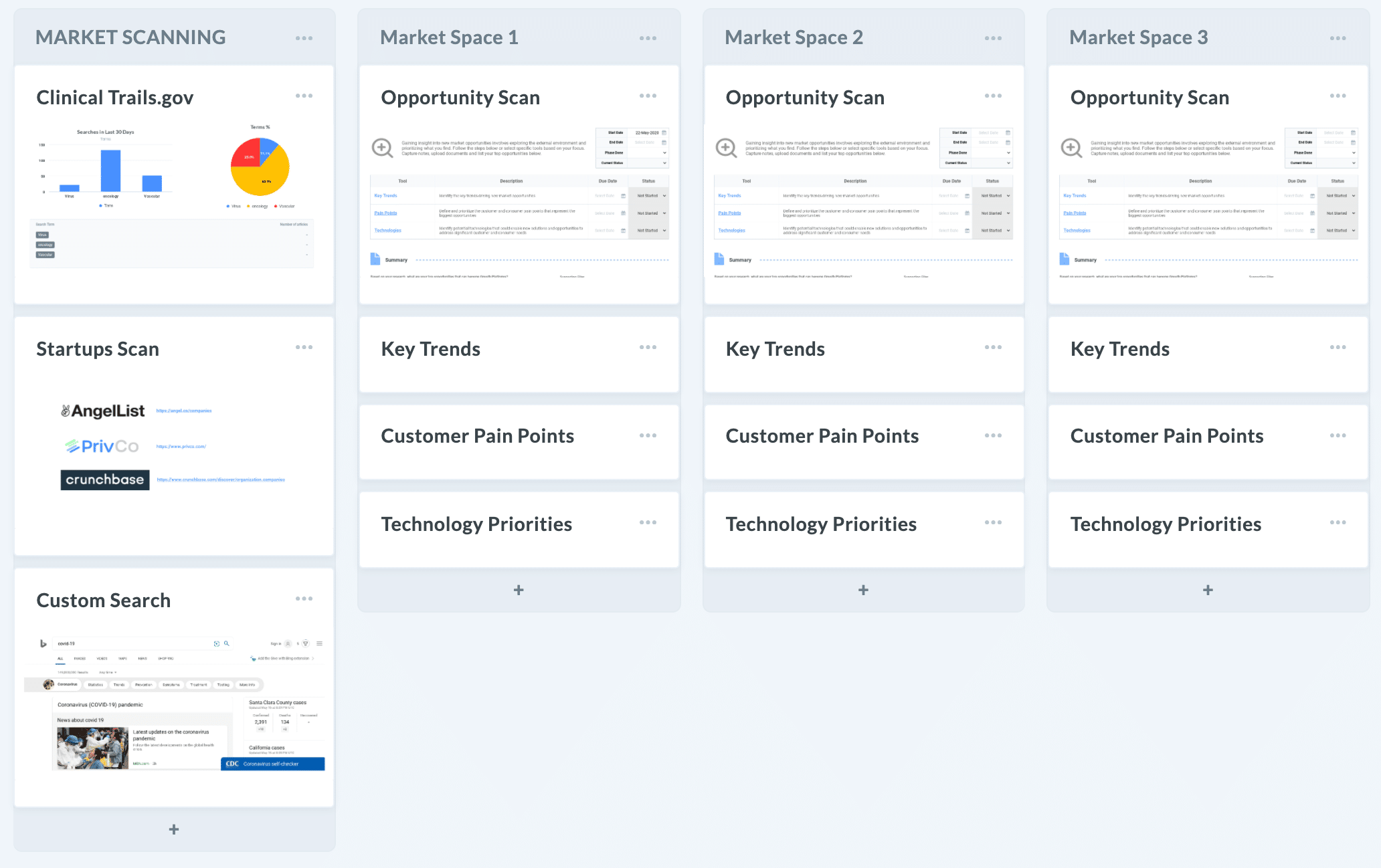 Core Features:
Praxie provides online software tools, templates, and business process apps that help teams collaborate more effectively, focus on their work, and get things done faster. 
These interactive software apps are created by industry experts, book authors, and consultants who have years of experience in their respective fields. 
With Praxie's Innovation Command Center software platform, teams can manage their innovation process more effectively and customize it to their needs. 
Praxie also allows teams to assign and engage individuals and teams as owners of specific opportunities, metrics, and process steps to ensure progress. 
Finally, Praxie's internal data linking features enable users to share data across apps and processes to create tables, charts, graphs, and other visualizations.
Teams can share data and summarize progress through shared dashboards based on administrator-defined security levels.
Pricing 
Praxie has three pricing tiers: Pro, Instant Business Processes, and Everything in Pro. 
The Pro plan costs $9.95 per user per month (billed annually) or $14.95 per user per month (billed monthly). 
The Instant Business Processes plan costs $24.95 per user per month (billed annually) or $39.95 per user per month (billed monthly). 
The Everything in Pro plan costs $49.95 per user per month (billed annually) or $79.95 per user per month (billed monthly).
Zenhub
Zenhub is a tool that helps agile teams manage their projects and collaborate more efficiently for planning out new features. It's designed specifically for software development teams using GitHub and provides features like a Kanban board, Epics organization, and customizable workflows. With Zenhub, teams can plan their work, track progress, and measure productivity, all from a single view.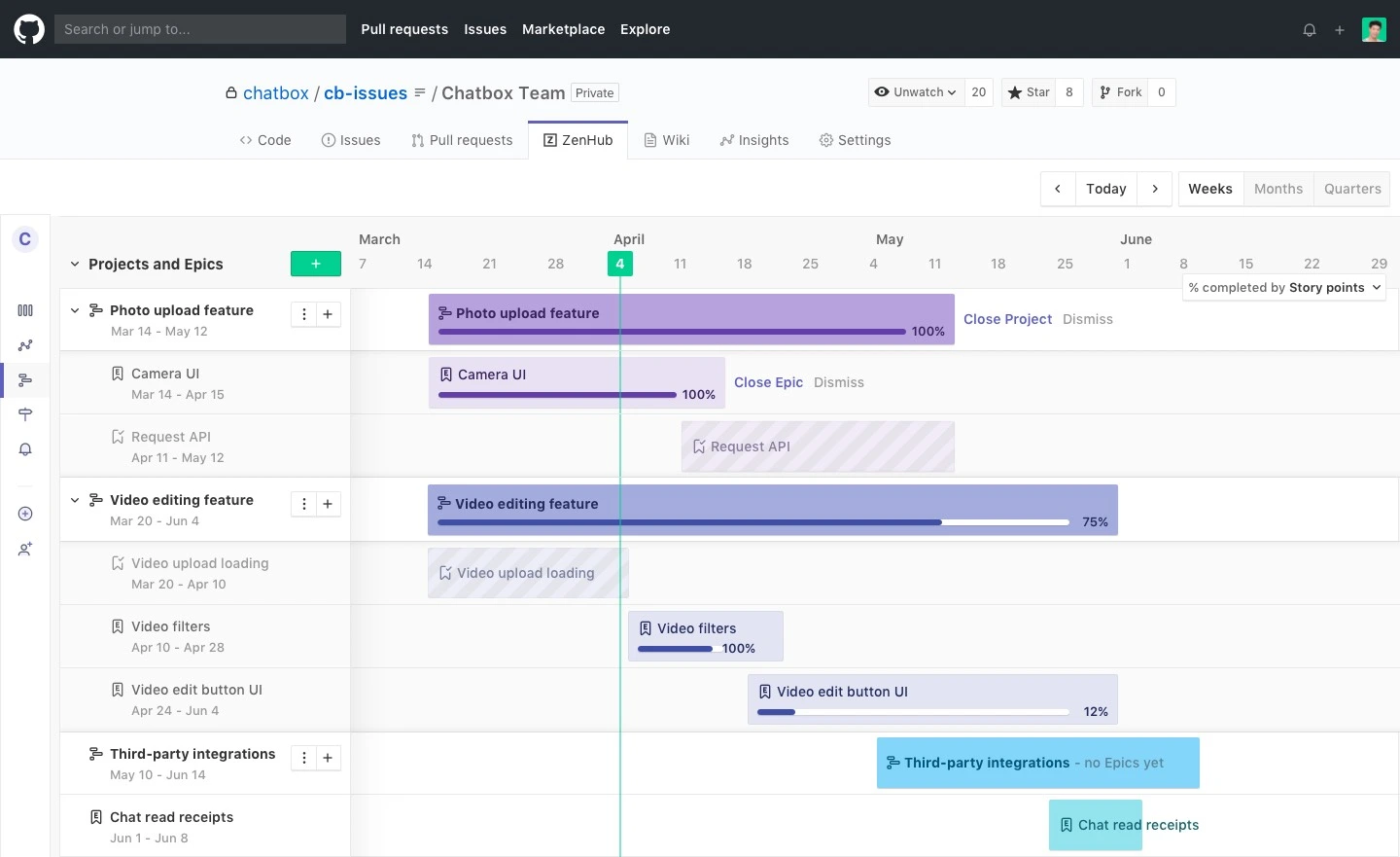 Core Features:
The platform includes features like task boards, burndown charts, epics, roadmaps, and team health metrics, as well as customizable dashboards and reporting options. 
Zenhub integrates with other productivity apps such as Google Calendar and Dropbox. It also integrates with popular development tools like GitHub and GitLab, enabling users to easily track tasks, assign work, and collaborate. 
It provides agile project management, allowing you to plan software development work, track progress, and measure productivity, all in one place.
Pricing Information
ZenHub offers a free plan for open-source and universities, while other users can choose from simple plans based on their team's specific needs. 
The Starter plan is priced at $12.50 per user per month for monthly billing and $8.33 per user per month for annual billing. 
For organizations that require additional security, control, and support, the Enterprise plan prices can be inquired by reaching out to their sales team.
Smartsheet
Smartsheet is a cloud-based work management and automation platform designed for teams to collaborate, manage work, and automate workflows. It's a good tool for product planning if you're comfortable with spreadsheets and all information on a single page. Its tabular user interface allows users to assign tasks, track project progress, share documents, and manage other work with ease.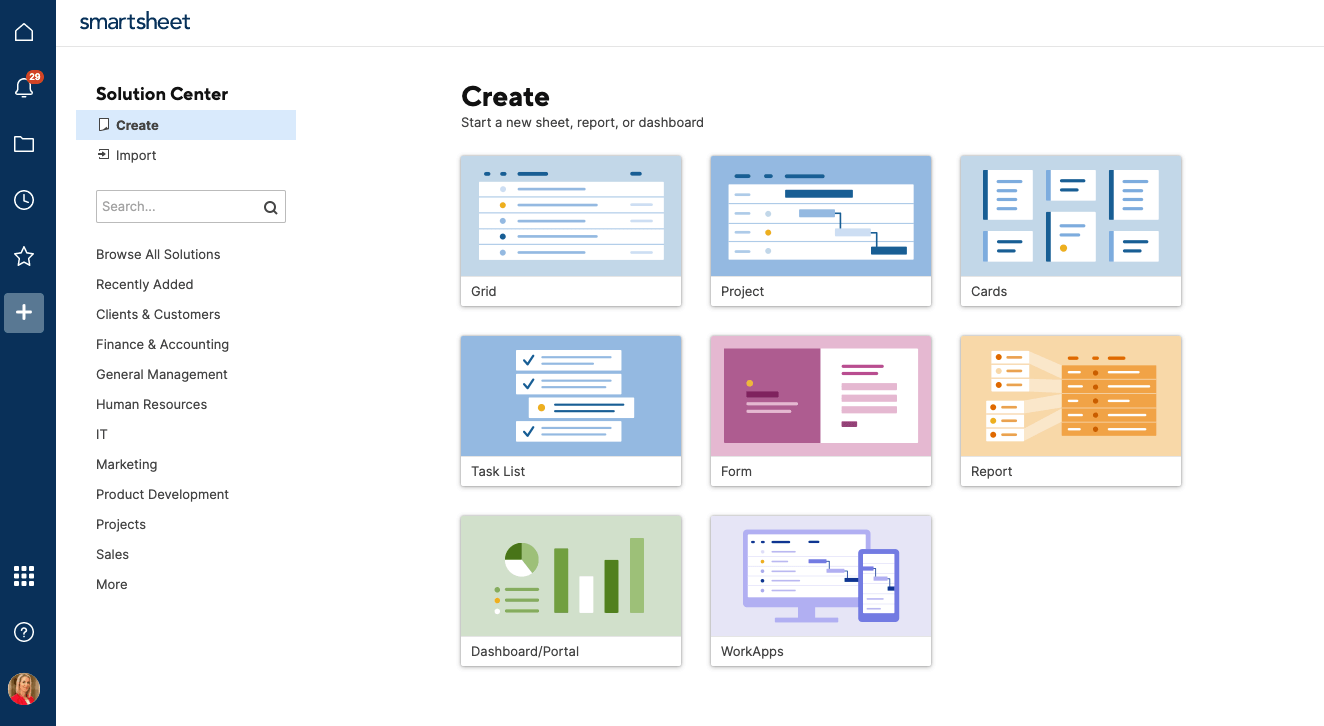 Core Features:
Smartsheet offers a wide range of templates for use cases such as IT, human resources, product development, etc. 
It's highly flexible and customizable and integrates with many systems. Its rich set of views, workflows, reports, and dashboards make it versatile for projects and company-wide initiatives. 
Smartsheet enables teams to manage projects, automate processes, and scale programs in one powerful platform, maintaining visibility and keeping distributed teams connected. 
Pricing  
Smartsheet offers various pricing plans that cater to different needs. The Individual plan has been discontinued, which means that individuals and small teams now have to pay $7 per user per month when billed annually as $84. 
The Business plan is designed for teams and costs $25 per user per month when billed annually. 
The Enterprise plan, on the other hand, is intended for organizations and offers premium capabilities for project, program, and process management at scale. For its price, you can contact SmartSheet's sales team.
PivotalTracker
PivotalTracker is a decent agile project management tool designed for software development teams to collaborate efficiently and prioritize their work. 
It helps to form realistic expectations about project completion based on team performance. PivotalTracker is a good choice for product planning software that enables real-time collaboration and effective task management.
Core Features
Stories: Defines the project and helps in keeping track of progress from start to delivery.
Story Types: It offers features, bugs, and chores to balance building new features, staying ahead of technical debt, and keeping the bugs under control.
Estimate and Prioritize: This allows the team to estimate and prioritize the story points by choosing from several point scales and drag-and-drop features to prioritize by iteration.
Automatic Planning: Pivotal Tracker's automatic planning keeps the team in sync and calculates the team's velocity based on the average number of story points completed in recent iterations.
Workspaces: Multi-project workspaces enable viewing projects side-by-side and juggling various responsibilities on one screen.
Analytics: Analytics illustrates overall project health through both broad trends and detailed information.
More Features: Features such as notifications, mentions, and following, powerful search syntax, file sharing, tasks, labels, story blockers, API, project history, and apps and integrations are provided to help the team deliver better.
Pricing
Pivotal Tracker offers a variety of pricing plans to meet different needs. 
The Startup plan is heavily discounted to benefit startups and costs $10 per month or $100 per year for up to 10 collaborators.
The Standard plan starts at $6.50 per user per month. 
The Enterprise plan is designed for organizations and offers additional features such as SSO, audit logging, and priority support. For more information on the Enterprise plan, please contact Pivotal Tracker sales.
KeepSolid Goals
KeepSolid Goals is a good goal management tool that assists in setting and strategizing goals for better productivity. It provides an overview of objectives, tasks, due dates, assigned team members, and key results in the objective gallery. KeepSolid Goals is designed to aid startups, business owners, and PMs in performing goal-oriented management and help with the product planning.
Core Features:
KeepSolid Goals offers multiple features to help users achieve their goals. 
Users can set and track individual and team objectives and key results (OKRs) to align their goals with their overall strategy. 
The platform includes KPI, budget, and progress tracking features, as well as customizable templates to get started quickly. 
Users can create mind maps to define their goals and use Gantt/timeline and Kanban board views to manage tasks. 
KeepSolid Goals also provides milestone tracking, analytics and reporting, an activity dashboard, alerts and notifications, and collaboration tools.
Pricing  
KeepSolid Goals offers one pricing plan at $7.99 per user per month, providing access for up to 30 team members. You can opt for monthly or annual billing, and there is a 14-day free trial with no need for a credit card. You can cancel at any time. In addition, there is a free plan available.
Monday.com 
Monday is a famous team management tool that simplifies communication and enhances productivity. It offers a user-friendly interface, customizable features, and a range of integrations that make it a good choice for teams of any size and industry. The tool allows you to create your ideal workflow in minutes or choose from 200+ ready-made templates. The visual interface lets team members jump in and get started easily, without any training required.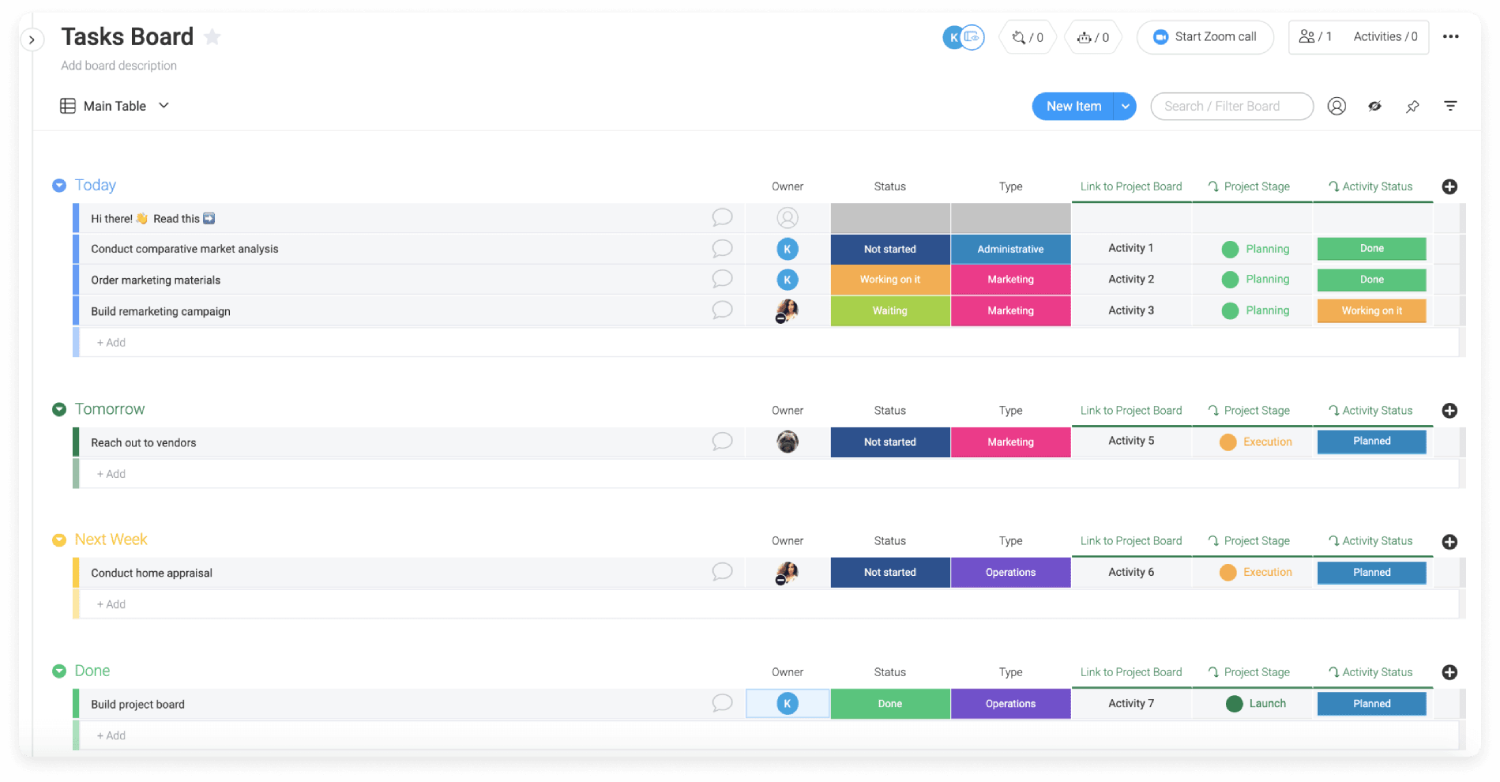 Core Features:
Monday allows for easy monitoring, managing, and tracking of workloads. Users can create project plans, set deadlines, assign tasks and resources, and track progress.
The platform offers easy communication, collaboration, and data visualization through its customizable dashboard. Users can access top-level metrics that are critical to decision-making processes.
Monday is designed with people-centric features such as an easy user interface and customizable options. 
Its visual board is the core of the platform, allowing users to manage anything from projects to departments.
The platform offers multiple views including a Kanban board, calendar, timeline, Gantt chart, and more. 
Pricing
Monday offers four different plans: Basic, Standard, Pro, and Enterprise, with prices starting at $24 per month for the Basic plan. As you go up in plan level and team size, the price increases accordingly. For teams over 40 users, a custom quote can be requested to get an exact price.
The Basic plan comes with unlimited boards, 5 GB of storage, and 24/7 customer support. 
The Standard plan offers all the features of the Basic plan and includes advanced features such as a timeline view, calendar view, and map view. 
The Pro plan includes everything in the Standard plan plus automation, integrations, and time tracking.
The Enterprise plan offers all the features of the Pro plan and includes advanced security features, a dedicated customer success manager, and more. 
SharpCloud
SharpCloud is a platform that helps you organize your information in one place and is considered great for product management and product planning roles. It can be accessed from anywhere and offers customizable data views. It assists with project milestones, release plans, resources, and training. SharpCloud allows for real-time updates and deep dives into technology roadmaps.
Core Features
Visual Storytelling via Roadmaps.
Allows for creating engaging stories with data through interactive visualizations, timelines, and roadmaps.
A customizable platform that enables tailored solutions to evolve. Includes the option to create custom fields, workflows, and statuses.
Facilitates better team communication and collaboration by creating and managing innovation projects and tracking project progress.
It frees your data from gridlocked spreadsheets and integrates data from external sources like Microsoft Excel and other LoB tools to display it in a connected, interactive story that enhances interpretability. 
Collect and organize all your information in one place.
Integrates data from external sources like Microsoft Excel.
A connected, interactive story that enhances interpretability.
Pricing
SharpCloud offers a single pricing plan for business teams starting at $99 per user per month when billed annually. The plan provides the capability to create multiple stories per user with up to 5000 data items per story. 
ProductPlan
ProductPlan is a feedback tool that can be used efficiently for product planning. It provides a wide view of product strategy and helps teams assess opportunities, build a strategy and deliver it. The tool integrates with Jira, offers unlimited roadmaps, and advanced security features to keep data safe.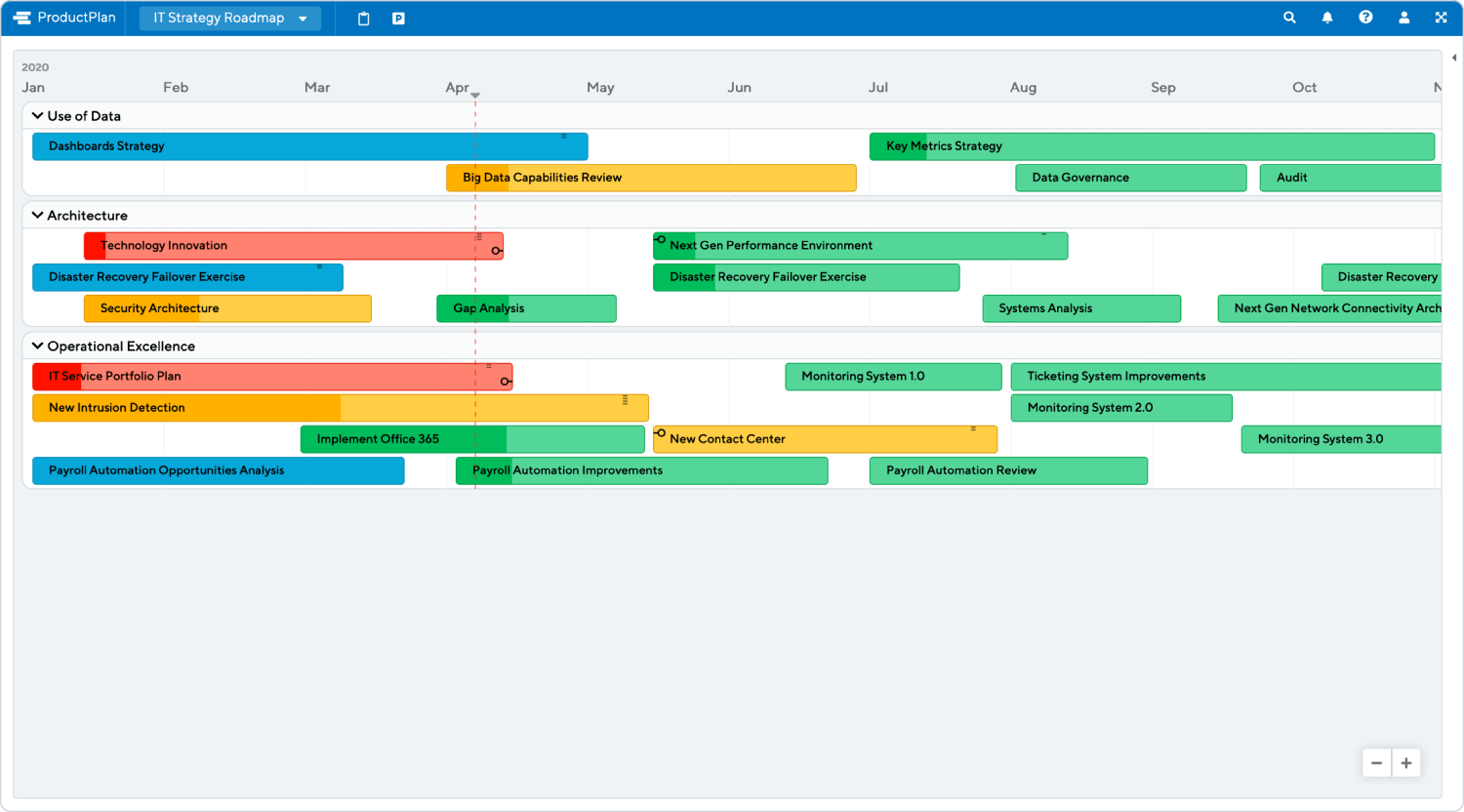 Core Features
Easily collaborate, share, and transfer an unlimited number of roadmaps between users. 
SOC 2 certification and advanced security features ensure your data is safe. 
Unlimited free viewer accounts give stakeholders an easy way to view and provide feedback on your roadmap. 
Automate the flow of data between your project management platform and your roadmap. Sync objectives to stay aligned with stakeholders and ensure everyone is working towards the same goals.
Embed your product strategy wherever stakeholders live and work. 
Pricing  
ProductPlan offers three pricing plans: Basic, Professional, and Enterprise. 
The Basic plan is priced at $39 per editor per month when billed annually. The plan includes unlimited roadmaps and unlimited viewers. 
The Professional plan is priced at $69 per editor per month and comes with additional features such as custom fields, custom branding, and more. 
Finally, the Enterprise plan includes dedicated support, custom security, and more. The pricing for Enterprise is customized to suit your business needs. For further details, please visit their website. 
ClickUp
ClickUp is a project management software that provides task management, project management, team management, and workflow management solutions. Its user interface is simple, intuitive, and appealing, making it an easy-to-use tool. It also has integrations with other applications such as Slack, Trello, and Google Drive, which makes it easier to connect with other tools.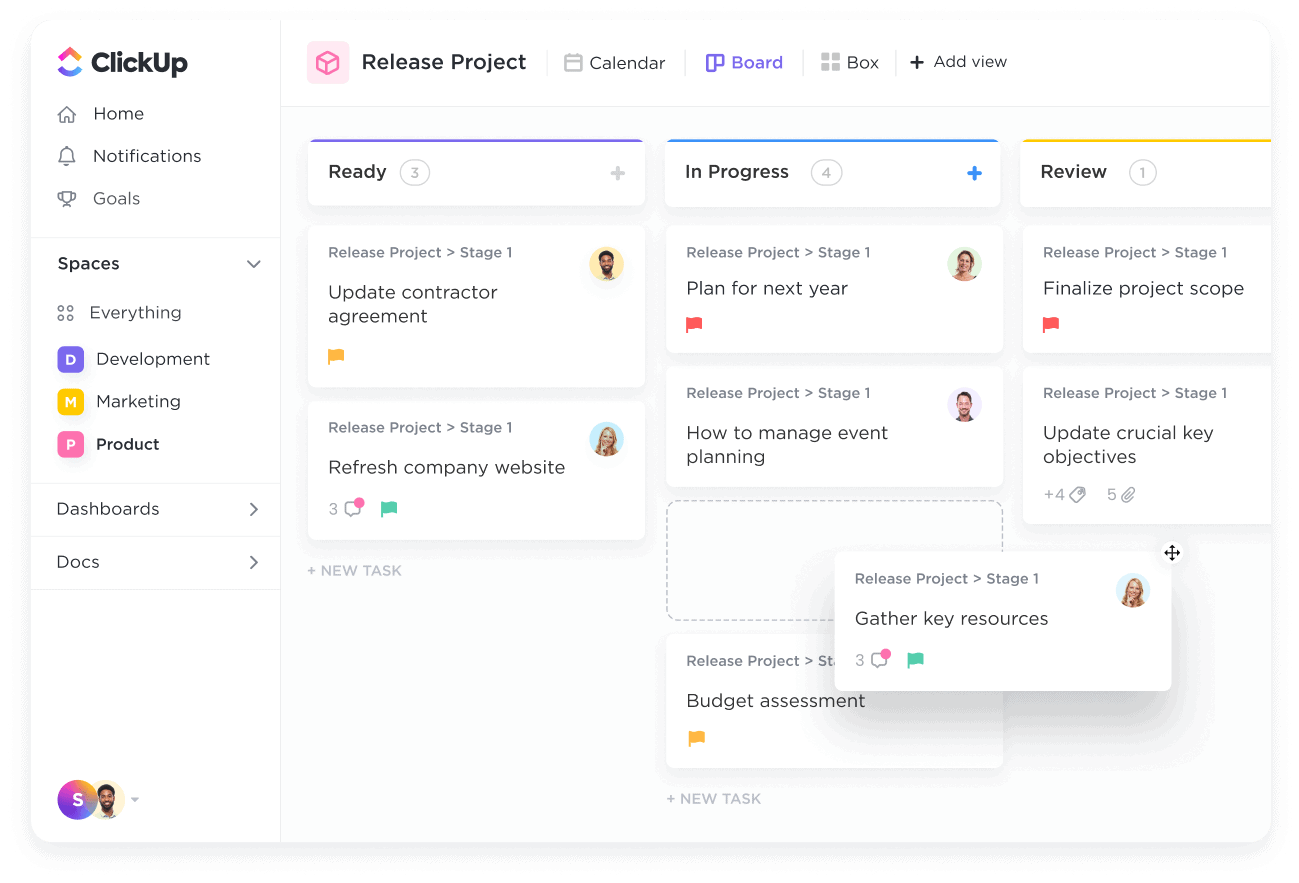 Core Features
You can create custom views for your tasks, projects, and teams. Customizing these views to suit your needs allows you to share them with anyone.
You can add resources like conversations, docs, and mind maps to your tasks and projects. Working on these resources without leaving ClickUp is easy.
It integrates with over 1,000 tools. You can sync team calendars, messaging apps, and cloud storage to keep all your tools in one place.
ClickUp provides powerful collaboration features. You can assign tasks, set due dates, and communicate with team members.
15+ views are available, including lists, Kanban boards, calendars, and timelines. You can choose the view that works best for you and your team.
Dashboards give you a bird's-eye view of your tasks and projects. You can add various lists, documents, and embeds as widgets to one page.
Pricing
ClickUp offers three pricing plans - a free plan, an Unlimited plan, and a Business plan. 
The Unlimited plan starts at $9 per user per month for monthly payments and $5 per user per month for annual payments, which amounts to $60 annually. 
The Business plan starts at $15 per user per month for monthly payments and $9 per user per month for annual payments, which amounts to $108 annually.
The free plan includes unlimited tasks, lists, and projects, along with 100MB of storage and unlimited members. 
Conclusion
FeedBear is one of the best tools in the space product planning software market for several reasons. It offers a centralized idea board, a customizable public roadmap, and a changelog all in one place, making it easy to keep track of your product development. Additionally, its modern design and ability to close the loop with customers make it a great choice for teams looking to collaborate and build the right features.
What sets FeedBear apart, however, is its combination of price, ease of use, and functionality. At an extremely affordable price, it provides all the tools you need to effectively plan your product roadmap without breaking the bank. And with its intuitive interface, even teams without a lot of technical expertise can easily get started.
While there are certainly other product planning tools out there, FeedBear is a solid choice for teams looking for a budget-friendly option that doesn't skimp on features or functionality. So if you're in the market for a product roadmap tool, give FeedBear a try and see how it can help you streamline your development process.