As a product owner, it's essential to keep up with customer feedback to ensure that your company is meeting its needs. However, it can be challenging to keep track of all the changes made to your product. That's where a changelog comes in.
A changelog is an excellent way to keep your customers informed and engaged. It shows that you are actively working to improve your product or service and value their feedback. By using a changelog, you can build trust with your customers and increase customer satisfaction.
What is Changelog?
A changelog is a vital component in software product development that documents and communicates the changes made to a product or application over time. It serves as a chronological record of updates, bug fixes, new features, and improvements implemented in each version or release.
As discussed, the purpose of a changelog is to provide transparency and clarity to users, customers, and stakeholders about the evolution of the product. It enables them to understand what changes have been made, why they were made, and how they may impact their experience or workflows.
Changelogs typically include detailed information such as:
Version numbers or release names
Date of the release
Summary of changes
Description of new features
List of bug fixes
Performance improvements
Security enhancements
Known issues or limitations
By regularly updating and maintaining a changelog, software development teams can effectively communicate with their user base, gather feedback, and demonstrate their commitment to continuous improvement. It helps users stay informed about the progress of the product, builds trust, and encourages engagement and adoption of new features. A well-documented changelog can also benefit the development team itself.
How to Select the Right Changelog Tool
When selecting the right changelog tool for your team, it's important to keep a few things in mind:
Consider your team's needs: Look for a tool that fits your team's workflow and integrates with the tools you're already using.
Check the pricing: Make sure the tool fits within your budget and offers the features you need at a reasonable price.
Look for features: Consider the features that are most important to your team, such as customization options, automation, and integrations.
Read reviews: Check out reviews from other teams to get an idea of how the tool performs in real-world situations.
Try before you buy: Take advantage of free trials or demos to test the tool before committing to a purchase.
List of Top 10 Changelog Tools for SaaS
Now, we present the top 10 changelog tools that we have carefully selected after conducting extensive research. These tools are designed to help you keep track of changes made to your SaaS products and communicate those changes effectively to your customers. We have taken into account various factors such as ease of use, pricing, features, and customer reviews.
Whether you're a small startup or an established enterprise, a changelog is essential for keeping your customers informed about updates and new features. With the right platform, you can streamline your communication process and improve customer satisfaction. So, without further ado, let's dive right in.
FeedBear: A Minimal Changelog Tool for Streamlined Communication
Are you tired of complex and bloated tools to communicate with your customers that eat up your time and resources? Look no further than FeedBear – a modern and affordable solution designed to improve how teams manage their customer feedback, and engagement and manage release notes and announcements.
At FeedBear, we understand the importance of simplicity without compromising on power. That's why we've created a tool that is not only intuitive and user-friendly but also packed with robust features. With our platform, your team can effortlessly stay organized, collaborate seamlessly, and keep your customers engaged throughout the development process.
Our primary goal with FeedBear is to eliminate the steep learning curve associated with most alternative tools. Forget about spending days onboarding and setting up – with FeedBear, you'll be up and running in just a few minutes.
Why Choose FeedBear for Your Release Notes Management?
AI-Powered Changelog
Keep your customers informed about new features and releases with our built-in changelog feature. Close the feedback loop by generating excitement and ensuring that new additions to your product don't go unnoticed. And with the help of GPT-4 powered AI features, building release notes is really easy.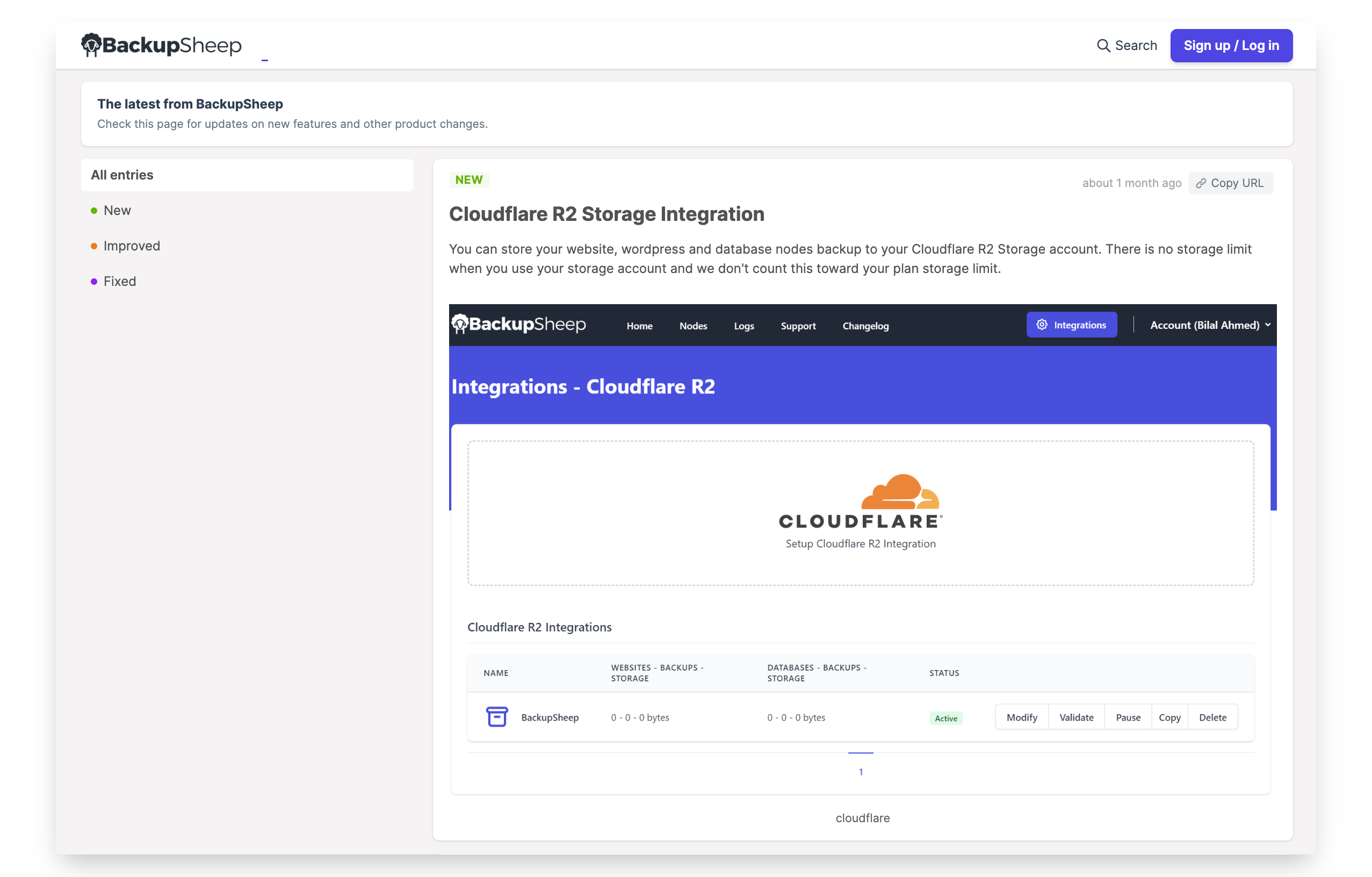 Visual Product Roadmap
Effortlessly create and manage a shareable product roadmap.
Customize columns and statuses to communicate your goals effectively, all while retaining full control over the process.
Keep track of planned, in-progress, and completed tasks, ensuring team alignment and enabling transparent progress updates for your customers.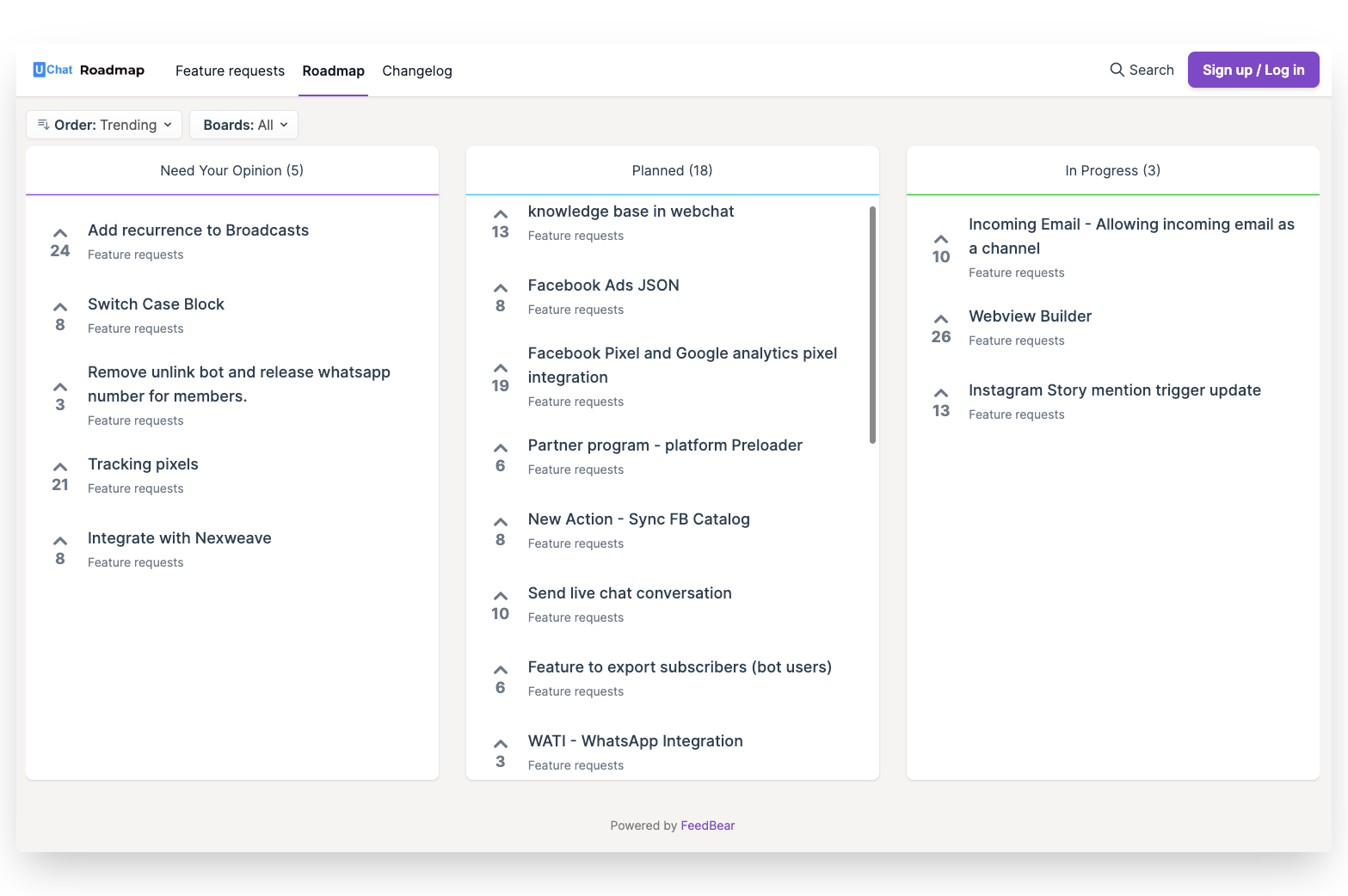 Idea Board
FeedBear provides dedicated idea boards to gather feedback, ideas, feature requests, and even bug reports.
FeedBear serves as a centralized hub for both your team and customers to collaborate seamlessly.
Allow comments and voting on ideas, choose between internal or public boards, and let the platform automatically suggest similar ideas to prevent duplication.
Engage Your Customers
Share your roadmap with customers and demonstrate that you're actively listening to their feedback.
Create a sense of community and loyalty among your customer base, resulting in improved retention rates.
Utilize comments and discussions to dive into the real problems and needs your customers have, building stronger relationships.
Seamless Integration with Your Favorite Tools
We understand that you have established workflows using your favorite tools. That's why we've built integrations for seamless integration of FeedBear with popular platforms such as Trello, Jira, Intercom, Slack, and Zapier to help you include FeedBear into your existing workflow effortlessly.
Simple and Customizable Design
With FeedBear, simplicity is what we've aimed for. Our customizable design allows you to get started quickly, even if you have little to no prior experience. Publish your roadmap on your own domain, website, or within your application without any learning curve.
Affordable Pricing Plans
FeedBear offers simple pricing plans that include your entire team.
Our Startup plan starts at just $49 per month for up to 3 team members, while our Business plan accommodates larger teams with unlimited members starting at $99 per month.
Enjoy a wide range of features, seamless integrations, and incredible value for your investment.
Strengths
FeedBear allows users to contribute their ideas and enables voting for preferred suggestions, promoting transparency in prioritization.
It ensures customers stay updated on ongoing developments, fostering a sense of community and cultivating loyalty.
Automated status updates are sent as progress is made on product advancements or customer requests.
The user interface (UI) is designed to be user-friendly, ensuring accessibility for all members of the team.
Users have the option to provide feedback without the need for an email address, reducing obstacles.
FeedBear is designed to be intuitive, facilitating effective management of feedback and streamlining feature development.
Ready to oraganize and manage your release notes management process efficiently and effortlessly? Try FeedBear now! It's free for the first 14 days and takes a few minutes to set up!
ReleaseNotes.io
ReleaseNotes.io is a cloud-based software that allows you to create and manage release notes for your software products. It is capable of producing informative and visually appealing release notes that keep your users up to date with the latest product changes. Also, it provides features like user feedback tracking, release schedule creation, and automated publishing of your release notes, making it easy to manage them.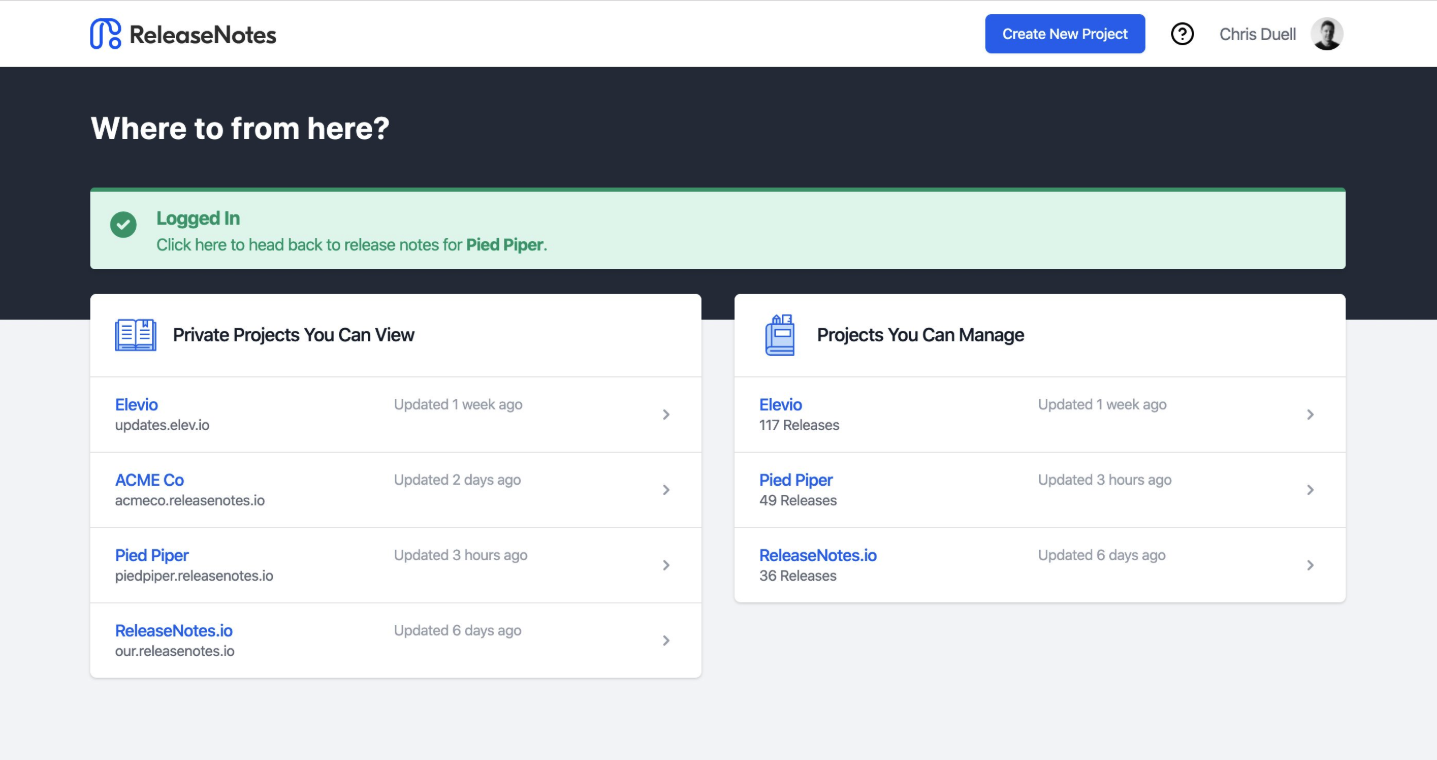 Core Features
Create and publish changelogs easily.
Add release notes for each version of your product.
Share release notes via email, social media, or other channels.
User Reactions feature to gauge user feedback.
Create a custom feedback widget for your website or app.
Customize the look and feel of your changelog.
Integrates with other tools such as Slack, Trello, Asana, and more.
Create a public roadmap for your product.
Pricing
Releasenotes.io offers three plans for its users. The first plan is the Free plan which includes a hosted Release Notes site, 1 team member, 5 release histories, a standard template, and text content only.
The second plan is the Standard plan which costs $29.00 per month plus $10 per 1,000 subscribers. This plan includes all the features of the Free plan plus unlimited releases and team members, a selection from the theme gallery, rich content, featured and social images, announcements to subscribers, tagging of releases, an embeddable widget, and analytics.
The third plan is the Pro plan which costs $49.00 per month plus $10 per 1,000 subscribers. This plan includes all the features of the Standard plan plus custom CSS/HTML/JS, private release notes, API access, Zapier integration, unlimited private viewers, and custom
Announce Kit
Announce Kit is a tool that allows users to create changelogs for their products, software, and mobile applications. Its main purpose is to help companies communicate effectively with their customers by delivering product updates efficiently. With its features such as Map, Release, Announce, Track & Analyse, customers are able to keep up-to-date with the latest changes made to the product.
Core Features
Announcement software: Allows for sharing product updates, release notes, engagement tracking & analytics.
Roadmapping: Create a public roadmap for your product and share plans with users.
Product updates: Share product release notes with users via email, social media, or other channels.
Engagement tracking: Track user interactions with announcements and gain insights into preferences.
Customer analytics: Obtain detailed analytics on users such as location and device type.
Mobile SDK: Easily inform customers within your mobile app through ready-to-use What's new UI components. Integrate mobile SDK to reduce repetitive work.
Pricing
AnnounceKit offers four different pricing editions. The Essentials plan starts at $49.00 per month and includes several features such as AI-powered Post Editor, Grammarly Integration, Labels, Standalone Feed, Widgets, Comments & Reactions, Email Notifications, and Basic Branding.
The Growth plan costs $99.00 per month and includes all the features that come with the Essentials plan, plus Segmentation, Custom Domain, Advanced Analytics, Roadmap, Feature Requests, and Standard Integrations.
The Scale plan costs $399.00 per month and includes all the features that come with the Growth plan, plus Advanced Security, Advanced Integrations, Custom Branding/CSS, Email Digest, Boosters, Multi-Language, and many more features.
The Enterprise plan starts at $599.00 per year and includes all the features that come with the Scale plan, plus Personal Service, Audit &amp
Headway App
Headway App simplifies product marketing by allowing developers to keep their customers informed about changes made to their products. It is a changelog-as-a-service tool that takes away the worries of having to style and update a self-built changelog. With Headway App, developers can easily keep their customers in the loop even for minor changes made to the product.
Core Features
Create a public changelog to share product plans with users.
Use in-product widgets to inform users about new features and updates.
Customize the look and feel of the changelog to match the brand and host it on your own domain.
Use a markdown editor for clean formatting, easy image uploading, and multimedia embedding.
Get detailed analytics on users including location and device type.
Pricing
Headway APP offers two pricing options for their users.
The first one is the Free plan that is accessible to everyone.
The second one is the Pro plan, which is intended for those who require additional features. The Pro plan is priced at $29.00 per month and includes a range of features such as Whitelabel, Custom domain, Custom categories, All integrations, Team management, Search engine privacy, Private changelog, Scheduled publishing, and all the features included in the free package.
Beamer
Beamer is a tool that allows you to announce changes, fixes, and news about your product to keep your users engaged. With Beamer, you can create a central location for your changelog on your website and within your product. It ensures that users can access the changelog easily and stay informed about the latest changes.
Core Features:
Changelog: Notify users about product updates using Beamer's easy-to-use tool.
Release notes: Keep users informed about new features and updates with Beamer's platform.
Roadmap: Discover user-requested features and display upcoming updates with an easy-to-use tool.
Detailed analytics: Get insights on user location, device type, and more.
Pricing
The Starter plan is the perfect simple solution for companies that are just getting started. The plan costs $59 per month if billed monthly, and $49 per month if billed annually, saving you $10 per month. 
For growing companies who want better results, the PRO plan offers increased power. The plan costs $119 per month if billed monthly, and $99 per month if billed annually, saving you $20 per month. 
Their Scale plan offers advanced features for companies who demand top performance. The plan costs $299 per month if billed monthly, and $249 per month if billed annually, saving you $50 per month. 
If you require maximum flexibility to meet your security requirements and growth, our CUSTOM plan is the best option for you
Olvy
Olvy is a tool that assists in managing user feedback effectively. It permits users to connect different feedback sources, analyze feedback, and organize it. It also allows users to turn similar feedback into engineering tickets and close the feedback loop. It's flexible in organizing and categorizing feedback, making it easier to track and manage issues. Also, it can be used to publish to the changelog, which is helpful in keeping customers informed about everything that is being released.
Core Features:
Dashboard: Get an overview of your feedback and user engagement.
Custom domain: Customize the look and feel of your feedback portal and host it on your own domain.
Feedback management: Collect feedback from your users and turn it into actionable insights.
Customizable branding: Customize the look and feel of your feedback portal to match your brand.
Sentiment analysis: Analyze the sentiment of your users' feedback to identify trends and areas for improvement.
SEO management: Optimize your feedback portal for search engines to increase visibility.
Widgets: Use Olvy's in-app widgets to engage your users with eye-catching notifications.
Release management: Announce changes to your customers with 1:1 notifications and maintain changelogs.
Pricing
Free plan: 1 builder, unlimited notes, SEO settings, track up to 100 feedback, widgets, 1,000 visitors, track up to 25 issues, email submission, Olvy Chrome extension, essentials.
Essentials plan: $48/month (20% discount), free plan + 3 builders, $15/builder/month, unlimited viewers, analyze up to 5,000 feedback, advanced customization, no Olvy branding, 2 widgets, release scheduling, unlimited visitors, custom domain, unlimited issues, feedback analysis, 3 integrations, track 1,000 users.
Business plan: $240/month (20% discount), essentials plan + 5 builders.
Hellonext 
Hellonext is a customer feedback tool that shares similarities with other tools in its category. It has a centralized feedback board for easy collection of feedback and a roadmap feature to integrate customer ideas which can be shared publicly or privately. Hellonext's change log feature allows for announcements about product updates to keep customers in the loop.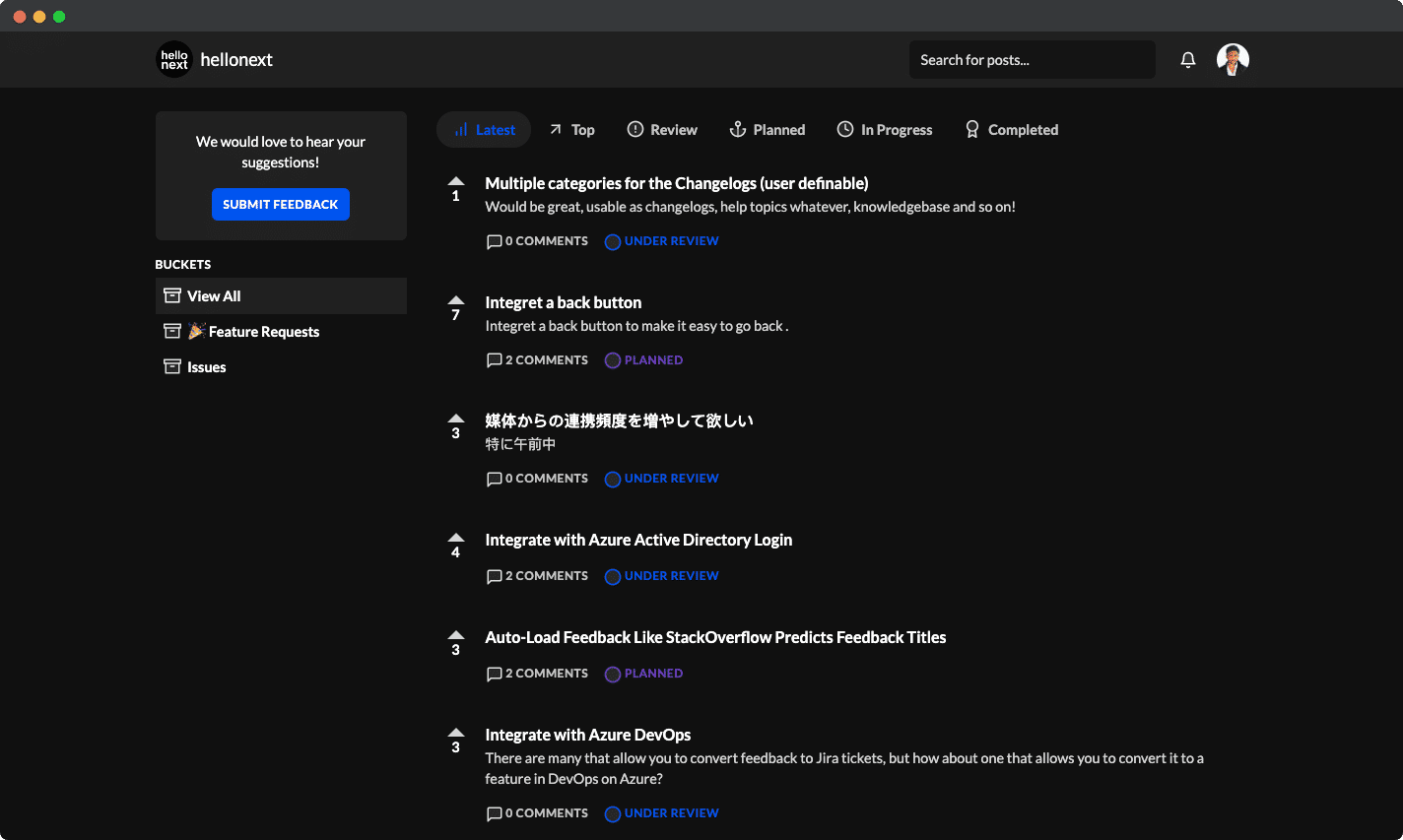 Core Features:
Feedback Boards: Centralize user feedback via private or public feedback boards.
Product Roadmap: Publish a product roadmap built on top of user feedback.
Changelog: Announce new product updates in-app with product changelog.
Knowledge Base: Help users & teams learn how to use a feature with the help center.
Analytics: Utilize user feedback for insights into what they want to be built.
Editor and Text Composer: A good editor and text composer with @mention, copy/pasting images, post tagging, automatic styling, etc.
Customizations: Customizations for favicons, links, brand colors, email notifications, etc.
Webhooks Support: Webhooks support easy integration with other apps.
Integrations: Comes with integrations for JIRA, Slack, Zendesk, Clickup, Zapier, Azure, Linear, Fullstory, Fathom Analytics, G.A, and many more apps.
Pricing
Freeway: Hellonext's Freeway plan is ideal for indie developers and startups in transition. It's $0/month and provides 2 feedback boards, 2 admin accounts (+$10/month for more admins), unlimited user feedback, and 1 external tool integration.
Take Flight: Designed for scaling teams, the $79/month Take Flight plan offers 10 feedback boards, 3 admin accounts (+$10/month for more admins), custom domains, support manager seats (+$5/CSM/month), and 3 integrations.
Fly High: Hellonext's $149/month Fly High plan is for fast-growth teams and power-Product Managers. It includes unlimited feedback boards, 10 admin accounts (+$10/month for more admins), advanced analytics, whitelisted domains, SSO & SAML integration, and unlimited integrations.
Enterprise: Hellonext's Enterprise plan is customizable. Contact Hellonext for pricing. It offers custom invoicing, custom integrations, advanced analytics, dedicated support, IP whitelisting, and a custom reporting tool & APIs for tailored solutions and enhanced security.
Savio
Savio is a platform that centralizes all customer feedback requests and integrates with multiple platforms. It gives a list view of every feedback and vote, connecting to all major customer support and communication platforms. Designed as the central hub of feedback for customer support, customer success, and sales teams, Savio closes the feedback loop for feature requests and bugs with its change log feature.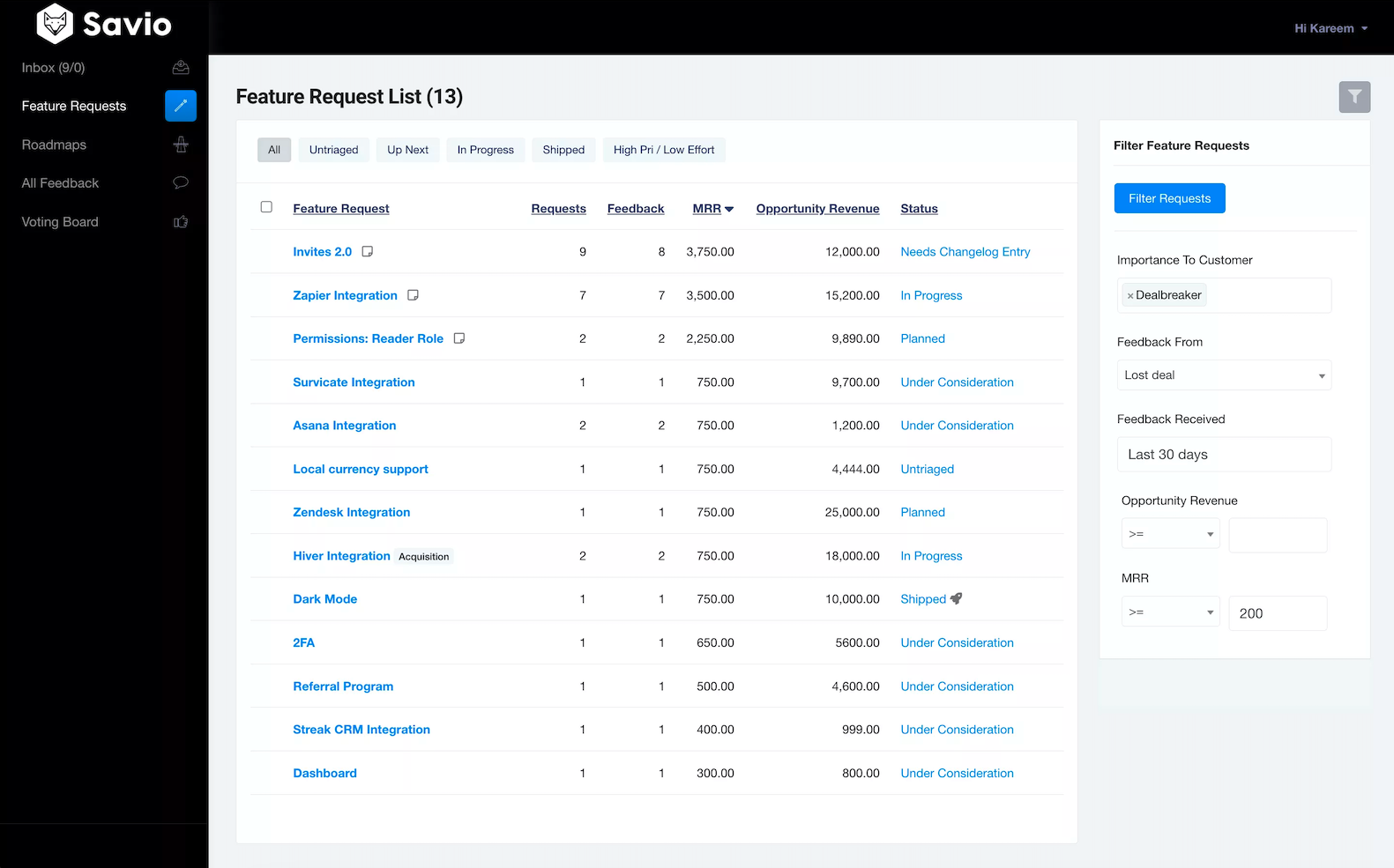 Core Features
Feedback management: Collect feedback from multiple sources through submitted tickets and view them in a list format.
Feedback integrations: Comes with several integrations such as Slack, Salesforce, JIRA, etc. for feedback collection.
Idea management: Share ideas with the community and get validation through a voting board.
Product roadmapping: Create roadmaps based on parameters like most voted requests or feature requests sorted by MRR.
Release planning: Send personalized emails for each feature shipped and reach out to everyone who requested the feature.
Pricing
The SMB package costs $49 per month and includes 3 admins, but is limited to use for only 1 product. It does include all core features but lacks important integrations such as tracking feature requests from Zendesk, Hubspot, and Salesforce.
The Growth package costs $99 per month and offers the option to add 10 internal users, but still only allows use for one product. This package does allow feature requests from Zendesk and Hubspot but does not integrate with Salesforce CRM.
This may not be the most cost-effective option for companies with multiple products.
The Scaling package costs $199 per month for the Unlimited plan, with no limit on internal users and projects. It does integrate with Salesforce CRM, which sets it apart from the other packages.
Frill 
Frill is a popular customer feedback tool that provides centralized feedback collection. Users can also access a roadmap for integrating customer ideas, which can be shared publicly or kept private. Additionally, Frill offers a change log to update customers on product changes and close the feedback loop. The platform also lets users to view, comment, and upvote feedback from others and provides basic integrations for workflow apps.
Core Features:
Feedback Management: Collect customer feedback from multiple sources in one place and create a uniform data-gathering process.
Customization: Incorporate brand logo, fonts, and colors to personalize the platform.
Board: Gather insights privately and publicly through a feedback board and limit access with privacy settings. Add custom fields like company type and monthly expenditure.
Roadmapping: Create public and private roadmaps to plan out product development.
Communication: Keep customers and stakeholders informed about product updates and new features and schedule releases. Close feedback threads and add custom labels in the product changelog.
Integrations: Leverage integrations with Slack, Intercom, Zapier, Jira, Trello, and HelpScout.
Other features: SSO, Automated emails, translations, themes, feedback widget, roadmap widget, micro-roadmaps, create and upvote ideas on behalf.
Pricing
Free: Frill offers a free plan with most core features, except privacy and white labeling. However, it has a significant limitation of only allowing 20 active ideas, making it impractical for startups or small companies with substantial feedback.
Startup: Frill's basic package is the Startup plan, priced at $25/month. It includes core features but has limitations. It allows a maximum of 50 active ideas, with an additional $25 cost to remove this limit. Accessing privacy features and making boards private requires an extra $25, bringing the total price to $75/month. White labeling is available for $100 on top of the Startup plan.
Growth: Frill's premium package is Growth, priced at $149/month. It removes all limitations and includes all add-ons available separately in the Startup plan. Purchasing these add-ons separately on the Startup plan would cost a total of $175. With the Growth package, you get unlimited active ideas, privacy features, and white labeling.
Noticeable.io
Noticeable.io is a product backlog management tool that allows you to communicate effectively with your users about any updates or changes made to your product. With this tool, you can easily create and publish professional-looking changelogs, release notes, and announcements to keep your audience informed.
The platform provides a user-friendly interface, making it easy to customize changelogs according to your branding and design preferences. You can categorize updates, highlight important releases, and attach files to provide comprehensive information to your users. Noticeable.io also offers seamless integration with your existing tools and workflows, making it a convenient tool to add to your development process.
Core Features
Widgets: Noticeable offers various types of widgets, including popup and top banner widgets, to keep your users updated about your latest updates, promotions, and issues.
GraphQL API: Noticeable has a powerful GraphQL API that enables you to integrate it with other tools and services.
Zapier Integration: You can automate your workflows by integrating Noticeable with Zapier.
Feedback: Users can send feedback that provides immediately interpretable and actionable data to improve your product and reduce churn.
Product Updates: Noticeable allows you to share about the state of your product, including announcements, new features, releases, traffic, and revenue, to build trust and get positive results.
Build Audience: Noticeable provides a way for users to subscribe to your updates, allowing you to build your audience and marketing lists.
Customizable: You can customize the look and feel of your widgets to match your brand.
How-to Guides: Noticeable offers step-by-step guides or tutorials for common actions.
Pricing Information
Noticeable comes with simple price plans.
The Free plan includes 1 project with no additional users and a single widget.
The Starter plan costs $29 per month and includes 1 project, no additional users, and 1 widget.
The Growth plan costs $79 per month and includes 2 projects, 3 additional users, and 2 widgets.
The Business plan costs $159 per month and includes 3 projects, 5 additional users, and 3 widgets.
The Enterprise plan costs $399 per month and includes an on-demand number of projects, unlimited users, unlimited widgets, and priority support.
Final Thoughts
To conclude, after reviewing several feedback and changelog tools, it's safe to say that FeedBear is a reliable option for those looking for a dedicated built-in changelog.
It's user-friendly interface, customizable public roadmap, and centralized idea board make it a great tool for collaborating with customers and building the right features.
Plus, its affordable price point makes it accessible for small businesses and startups. While there may be other changelog options out there, FeedBear is definitely worth considering. Give it a try and see how it can benefit your product development process.