Productboard vs. Feedbear 2021 Review - Which is the Better Feedback Tool?
While growing a SaaS product, there is one thing to keep in mind that is more important than churn, MRR, or LTV - your customers. Keeping your customers happy can feel like a chore if all you rely on are emails and reviews. To stay in the loop in real-time, you need to invest in a tool that captures user feedback and allows you to create roadmaps for the work ahead of you.
Let's find out.
Features
There are quite a few bases for comparison between these two tools, but features are the one aspect where they differ quite a lot.
Productboard features
The entire Productboard application is divided into four parts: Insights, Roadmaps, Prioritization, and Engagement.
Insights lets you collect all user feedback in one place. Whether it's Zendesk messages, emails or Slack messages, you can get them all into Productboard with a few clicks. Once you get all the feedback in one place, you can categorize it with tags so that your team (and customers later on) can find it.
Once the feedback is there, you can manually tie it to a feature you want to work on, making it easier for your product and dev teams to track what needs to be done and based on what feedback.
You can vote on ideas internally with your team and allow the customers to vote on new feature suggestions publicly so you can make more educated decisions.
In the Prioritization aspect of the app, you can determine how important a feature is for your business based on several criteria. User impact score, user satisfier, use delight - these are just some aspects affecting the final score. 
In this way, you can assess the value of a new feature, determine the effort it's going to take to fully build it and set the appropriate priority. You can determine a universal prioritization score to be used by the entire team when making important product decisions.
All of these features are a nice extra if you have a strong product team that knows your audience well and has the ability to capture so much data. In a smaller team that may not even have a dedicated product person, the added prioritization features may feel a bit overwhelming.
As for the roadmaps, they are pretty standard and can be shared internally (privately) or publicly with your customers. Bear in mind that in order to segment the audiences that get to see the roadmap requires you to upgrade to a pricier plan, though.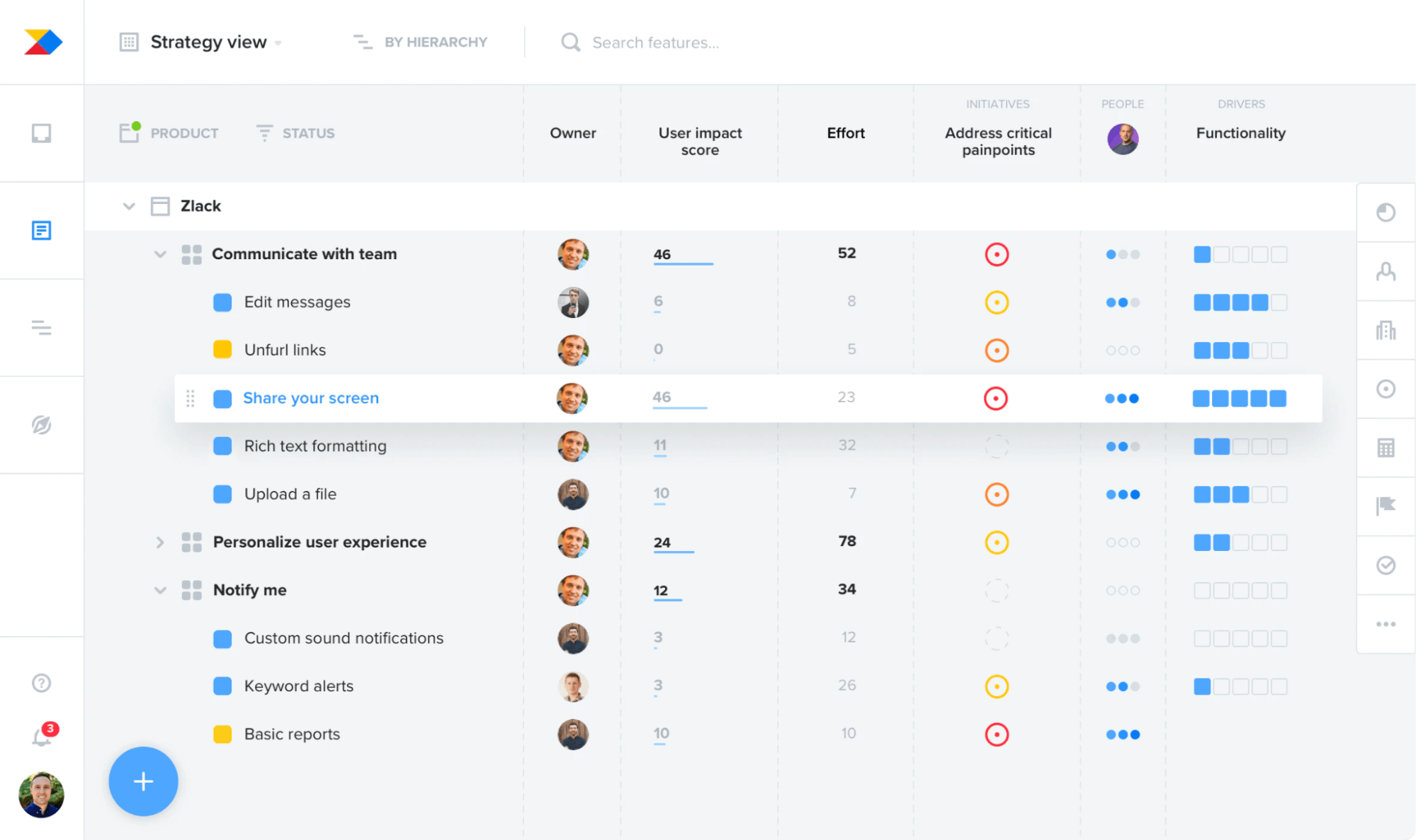 Productboard integrates with many product development and management tools including Jira and Github, which makes your work easier, in theory. In practice, it takes a bit of time to learn how the two (or more) tools click together. Moreover, G2 reviews suggest that precisely these integrations are the cause of many issues for Productboard users.
As for one of the biggest issues with Productboard, there is the fact that there is no search option in the Insights aspect of the app, nor the Roadmap. Essentially, if you get a lot of feedback every day, you'll have a hard time finding the right feature requests without the search function.
The overall impression that many users have about Productboard's features is that they are incredibly powerful. However, two issues arise.
First of all, most novice customers don't need such an abundance of features or a complex prioritization scheme for deciding what to build next. Second of all, all these powerful features make it really hard to learn the ropes and use the app to its full extent, even for professional product managers with years of experience.
FeedBear features
On the face of it, FeedBear seems like a much simpler tool. That's because it is - it's built to collect, store and manage user feedback in an easy and intuitive way for both companies and their customers.
For starters, FeedBear allows you to pull all of your user feedback in one place. You can embed a feedback widget on your website to get started. Or you can send your customers a link to your feedback board or roadmap for even easier access.
You can place this link virtually anywhere you want but our customers usually place it in their product, the website footer and in conversations with their own customers. Alternatively, you can add feedback that you previously had from other sources (forums, social media/customer support inboxes) to get the ball rolling.
Once you have the feedback on your board, you can get to proper work. Everything can be organized neatly using boards, tags, and filters. This allows you to group together similar feedback and feature requests and avoid duplicates. You can do this by using the merge function in FeedBear.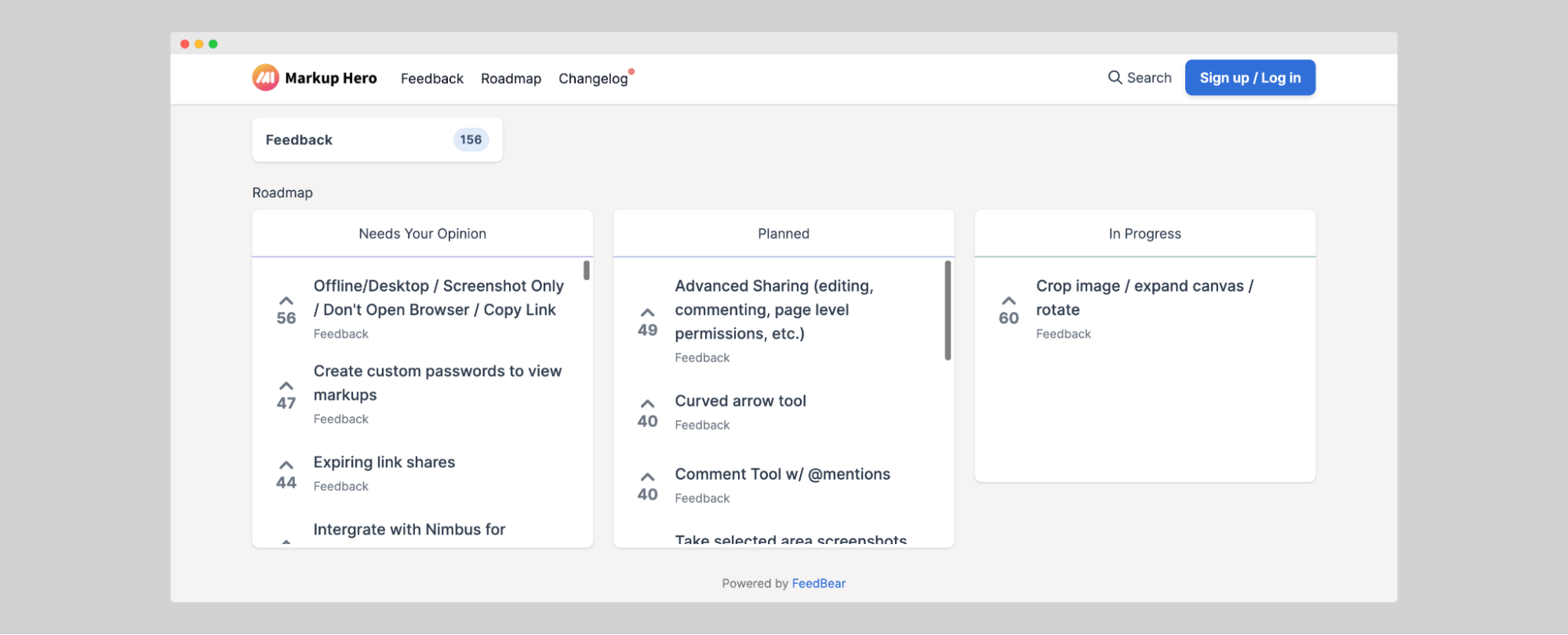 Moreover, you can quantify the requests that you get by allowing your customers (and your team) to vote on the requests that come in.
Go one step further with your feedback and feature requests by letting your customers dive into them. As a new post is created, each of your customers can comment on it using the feedback board. Your own team can jump into the discussion too, allowing you to uncover some interesting angles and even more areas for discussion and improvement. 

And if you're worried about letting something slip through the cracks - don't be. As new feedback comes in, you'll get instant notifications to your inbox. That way, your customers will never feel like you're not listening or paying attention.
What's more, they will get notified every time a change happens with their feature request. The main aim is to keep the customers engaged and encourage their participation. With automatic emails, they'll always be in the know.
Once you've decided what you're going to build, you can create a product roadmap and share it with your users. Whether private or public, you can show everyone you want what you're working on and when they can expect it.
The great thing is, your FeedBear roadmap won't be another roadmap where you just shout into the void. Customers can leave votes even on the roadmap to let you know what they think of the plans you have for the future.

The roadmap also lets you close the feedback loop easily. When you change a task's status in the roadmap, everyone who ever participated in that project will get an email notification. That includes the customer that requested a feature or a change, your internal team that worked on it and every customer that upvoted/downvoted or left a comment in the discussion.
However, you can also use the Changelog feature to let everyone else know that something major has just happened. This tool lets you announce your product updates to your entire user base with ease.

On the whole, FeedBear seems to have a simpler offer compared to Productboard, which is true. But that simplicity is exactly what makes FeedBear so great.
For smaller product teams that need an intuitive way to manage their product and communicate with their customers, FeedBear fits the bill. It may not have a million features, but the ones that are there are crucial, super easy to use and relevant for your customers.
Pricing
Let's start with Productboard as it's a bit more complex. The company charges per maker per month, where "maker" is anyone with an admin role to the product. Basically, it's a typical user-based setup.
The cheapest plan is $20 per maker per month and it includes the ability to create and share roadmaps and sync your roadmap with development tools through integrations.
If you want the ability to connect customer feedback to your roadmaps and sync and organize feedback from different sources into Productboard, you'll need to pay for the pricier plan at $50 per maker per month.
In other words, just to get the most basic features, you'll need to pay $50 per month for every member on your team using Productboard. If your team has a handful of people, you'll easily end up paying hundreds of dollars on this plan. Their most popular plan, Scale, is $100 per month and it requires at least 5 makers, making your monthly Productboard bill at least $500.
Simply put, Productboard's pricing is as complex as the product itself.
On the other hand, this is the area where FeedBear excels. While other product roadmapping and feedback apps charge per user, per month, FeedBear has just one plan. And it's $59 per month for unlimited everything. And there is also a free trial you can start today!
This means that for $59 monthly, you get unlimited boards, unlimited users, private projects, changelogs, custom branding, automatic follow-ups, and all the integrations.
Basically, you get everything that FeedBear offers for one payment, making this the most affordable product roadmapping tool out there. And if you want to save even more, you can pay annually and get two months free. A free 14-day trial is also available.
This is to say that in the pricing category, FeedBear is the clear and absolute winner.
Who is Productboard for?
For enterprise SaaS customers with complex products and the need to manage a heavy volume of customer feedback. These customers also have the need for a wider set of features aside from roadmapping and prioritization.
It should be your tool of choice if you're willing to invest time into learning the ins and outs of Productboard to get the most out of its features. Last but not least, Productboard can get quite expensive so it's for teams with bigger budgets.
Who is FeedBear for?
FeedBear is ideal for SaaS companies of any size looking for a clean, intuitive tool for collecting feedback, creating roadmaps, prioritizing features, and creating announcements for existing users. It's easy enough to use for any non-technical person to handle it quickly and it's affordable enough that anyone can fit it into their monthly app budget.
Conclusion
Which is the better product roadmapping tool, Productboard or FeedBear? It really depends on what you need the tool for. Productboard is great for enterprise SaaS businesses that need a full product management toolset and that don't mind paying for it or learning the ropes.
On the other hand, FeedBear is ideal for any SaaS business looking for an intuitive way to listen to their customers, collect feature requests and build a community of engaged people that they will update about the latest product changes.
If you like what FeedBear has to offer, give it a try for free! You can test it out in the free trial for 14 days, with no obligations or credit cards. Sign up today to get started!
Build a better product
Start listening to your customers in 60 seconds